Rolex Silver Officers Trench Watch, 1913
by Rolex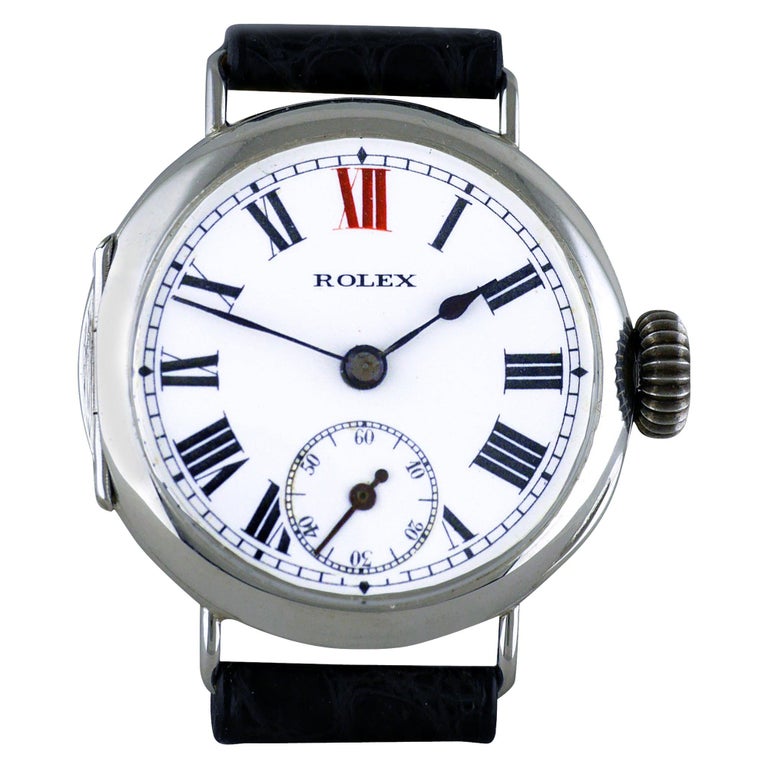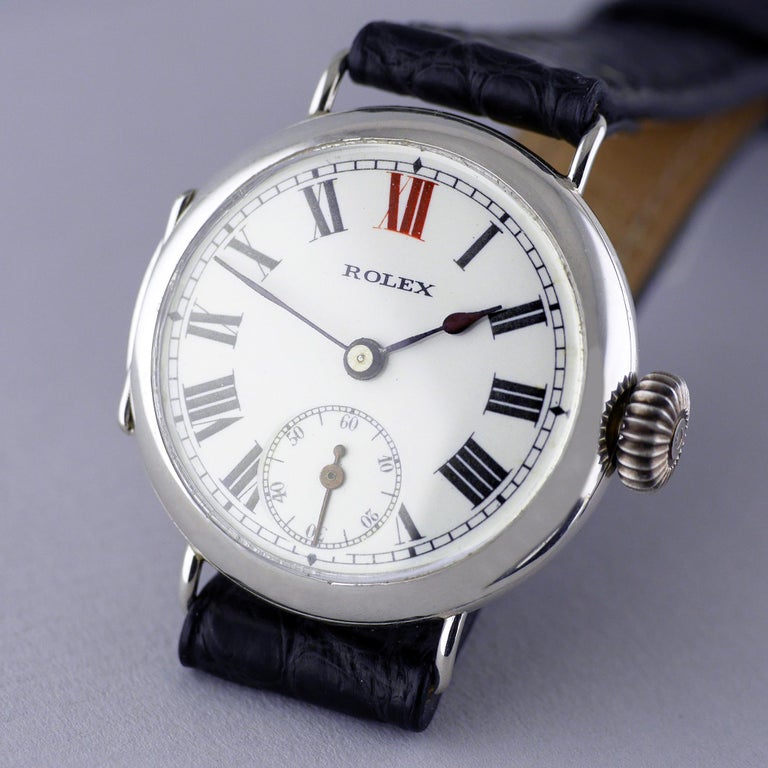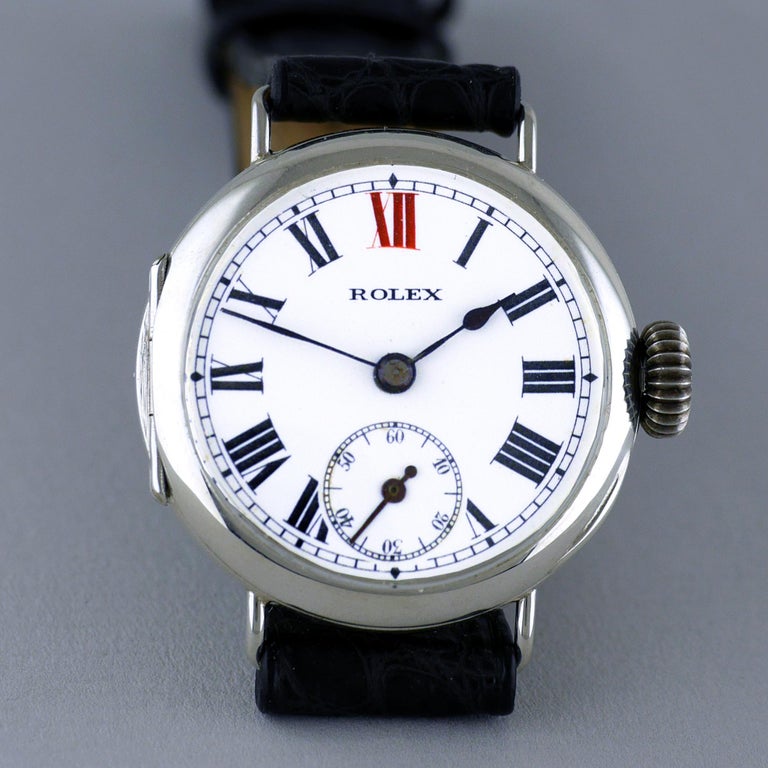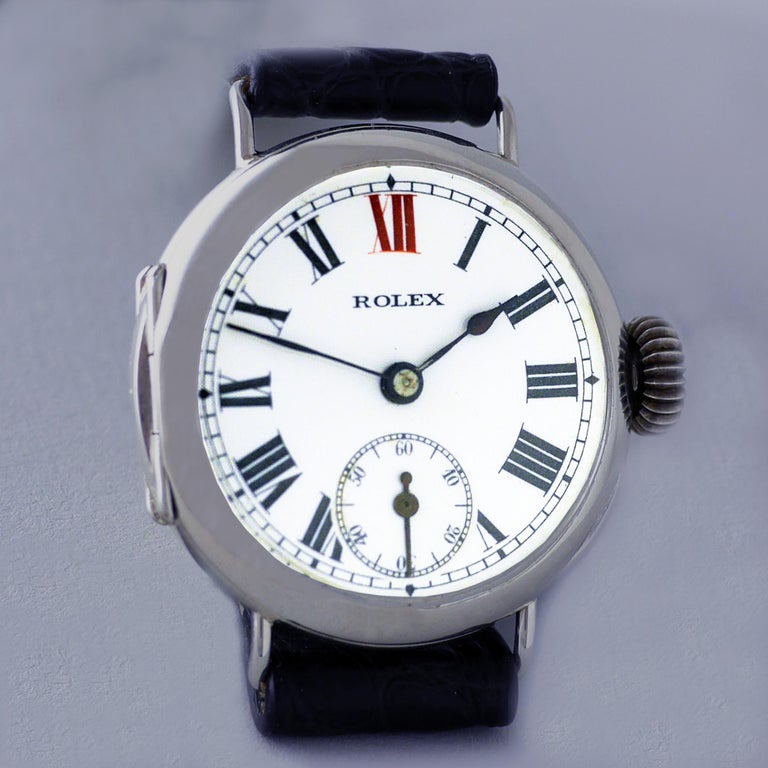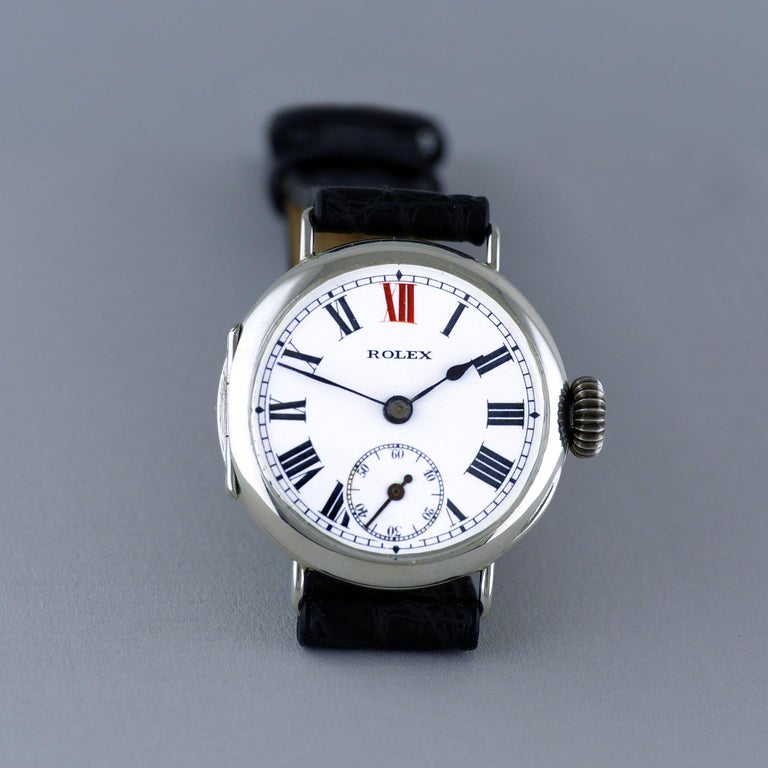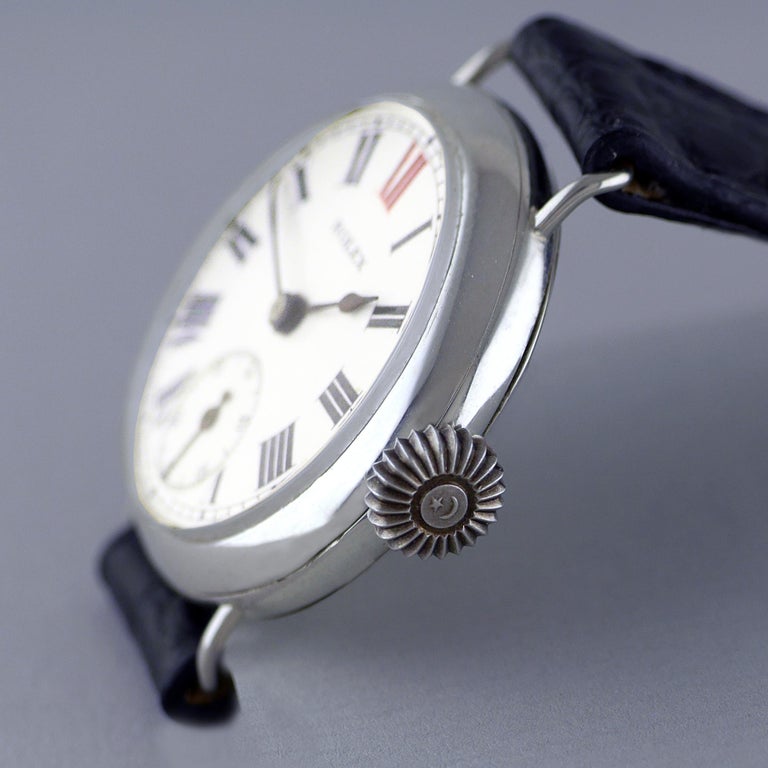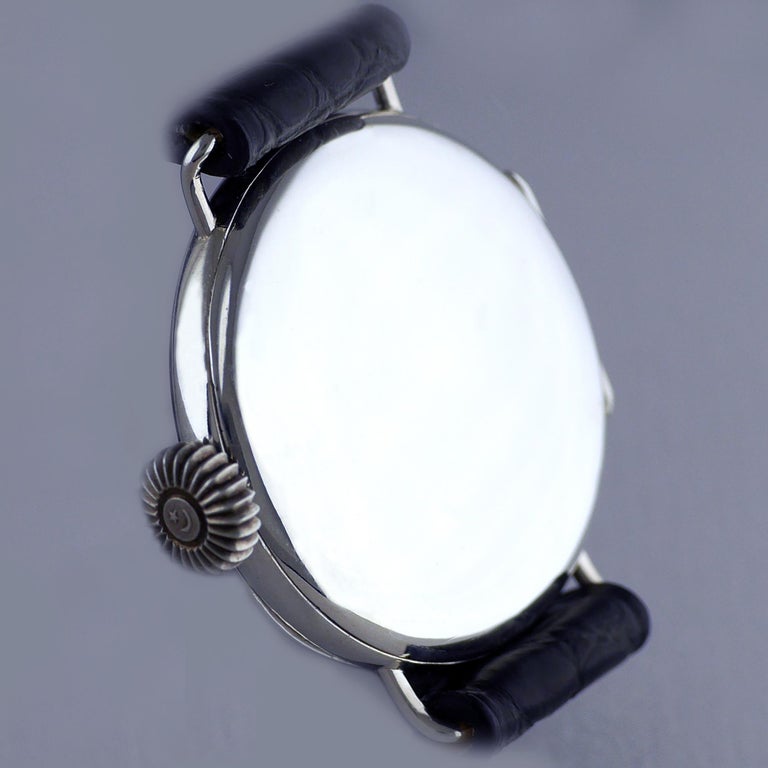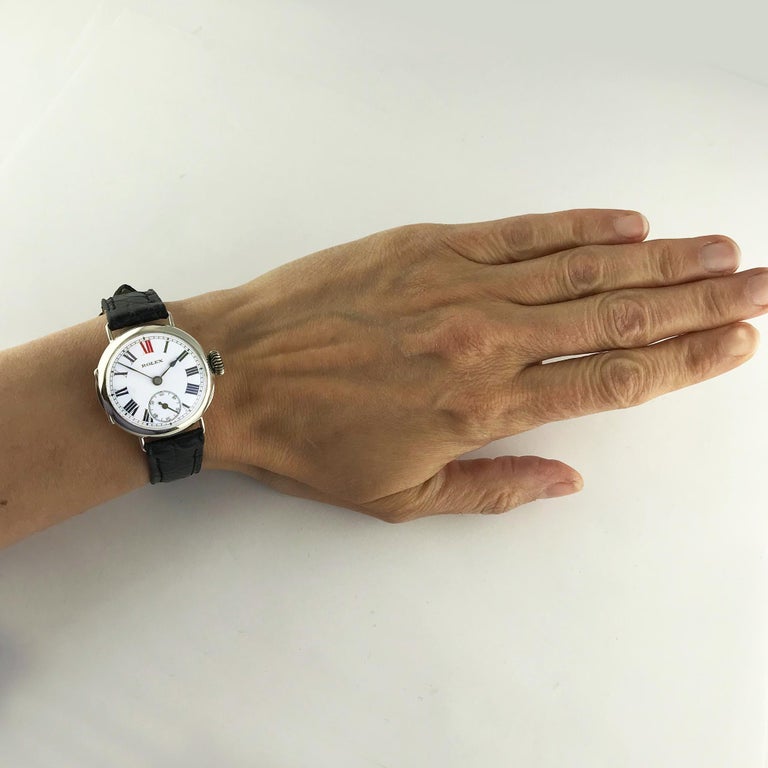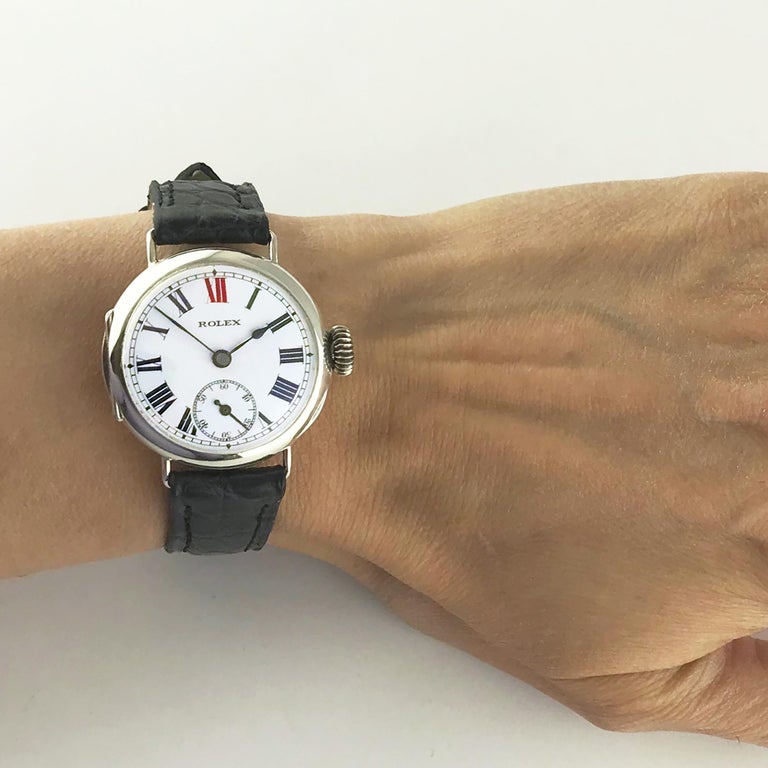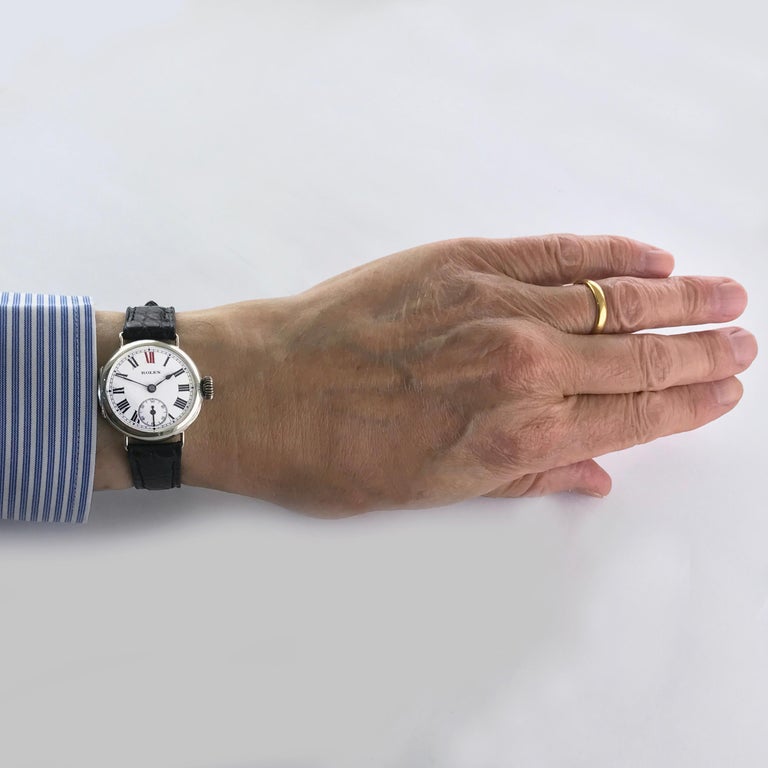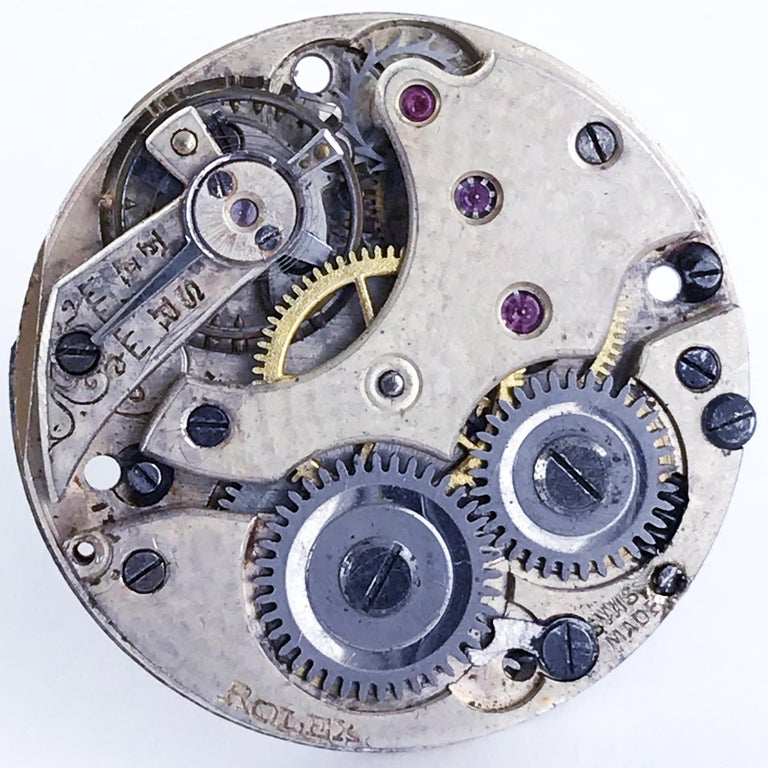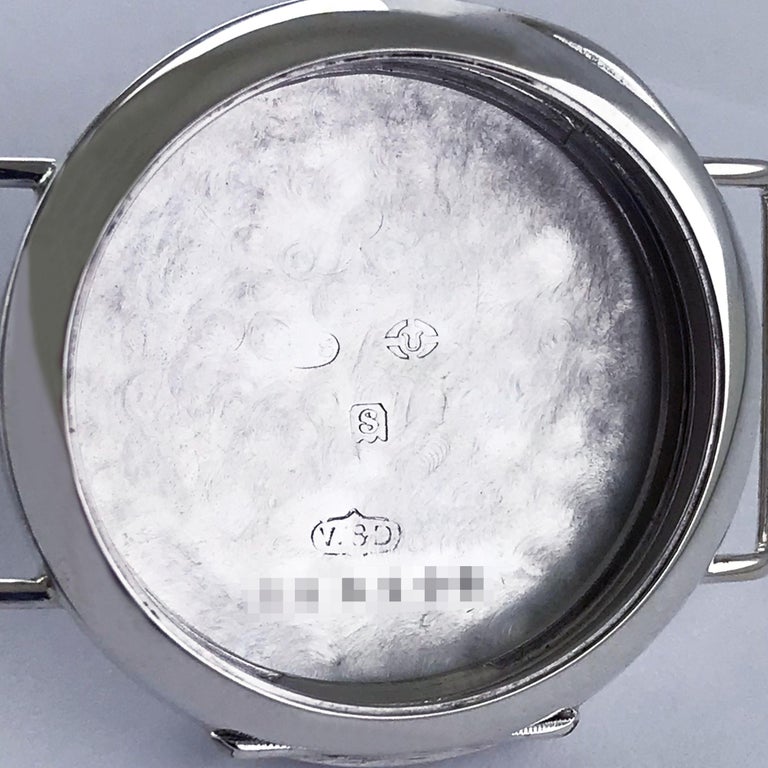 < swipe to view images >
Rolex Silver Officers Trench Watch, 1913
by Rolex
Stock No. 2877
A very rare, early, vintage Officers wristwatch by Rolex made in 1913.
Sterling Silver round case with hinged bezel and back, hallmarked for London Import into the United Kingdom in 1913. Diameter 30mm, suitable for a lady or a man that likes small watches.
15-Jewel Rolex movement.
White enamel dial with black period Roman numerals. Black minute chapter with diamond markers at 12, 3, 6 and 9 with subsidiary dial for seconds at 6. Fancy blued steel hands.
The Officers wristwatch represents a pivotal moment in horological evolution which occurred at the start of the 20th century.
Before World War One wristwatches were not commonplace, only a few military men, automobilists and aviators had adopted them. Pocket watches worn on chains were the norm. However, the impracticality of using a pocket watch during combat in the trenches, led many Officers to privately purchase and wear watches, on leather straps on their wrist, instead of the standard issue military pocket watches.
These early wristwatches became known as "Officers" or "Trench" watches. They had the same look as a pocket watch, as they were based on the old pocket watch movement, but they needed to be adapted and made smaller to be worn on the wrist.
It was after the First World War when their popularity took off and it became fashionable to wear a "wrist-watch".
Case, movement and dial signed.
Case Measurements:
Diameter (Width): 30mm / 3.0cm / 1 1/8" (1.19 Inches)
Length (lug to lug): 34mm / 3.4cm / 1 5/16" (1.34 Inches)
Depth: 9mm
All watches are given a full thorough service. They are stripped down to their individual parts, thoroughly checked for any obvious wear and tear, cleaned, re-oiled, reassembled and regulated. The final result is that the case, dial and movement are in pristine condition.
Pristine, fully serviced, 2 year guarantee and full after sales maintenance service.
| | |
| --- | --- |
| Depth | 9.00 mm - 0.35 inches |
BACK TO STOCK
More Items