Rolex Prince Brancard, Art Deco, Silver, 1929
by Rolex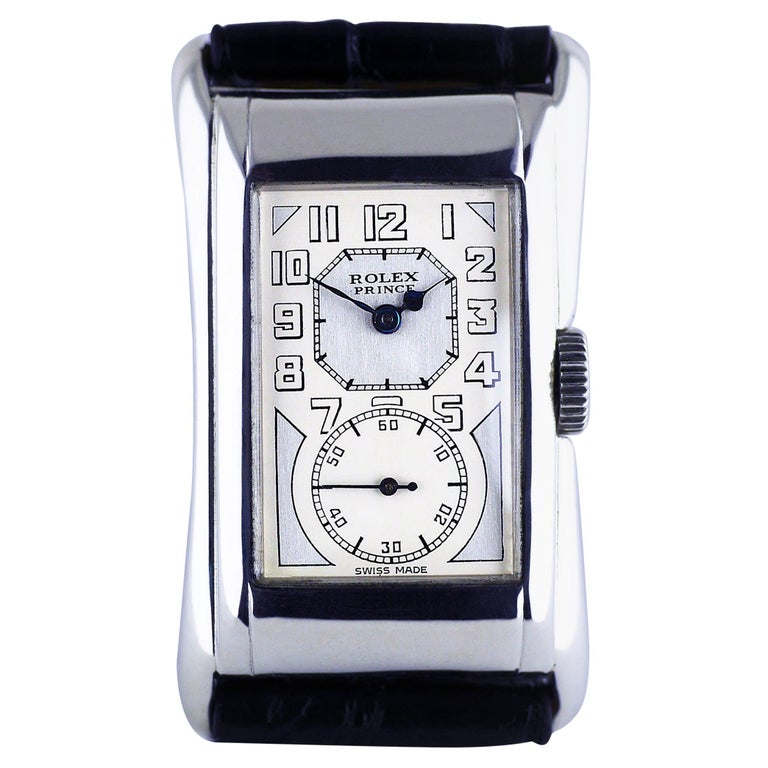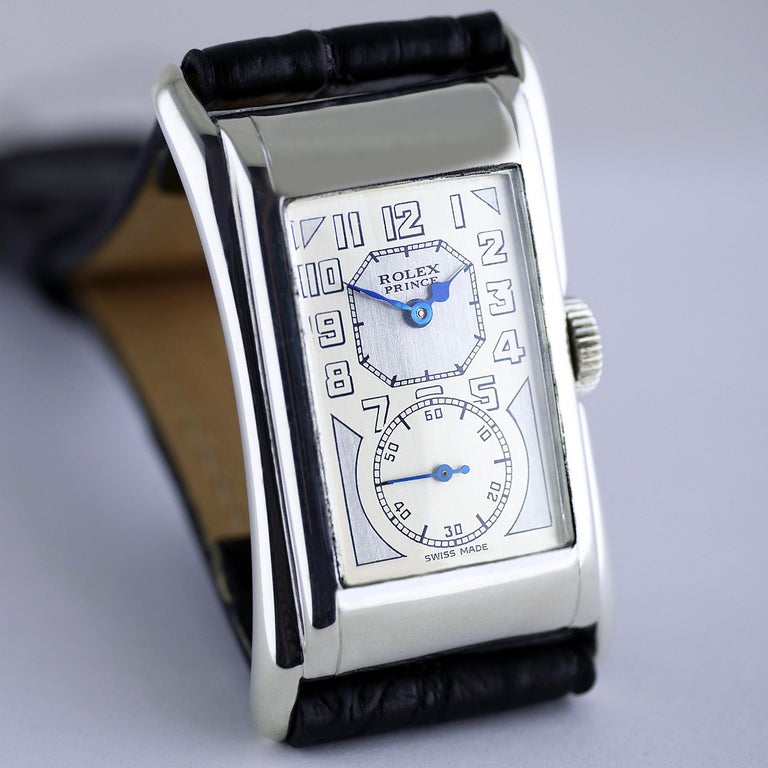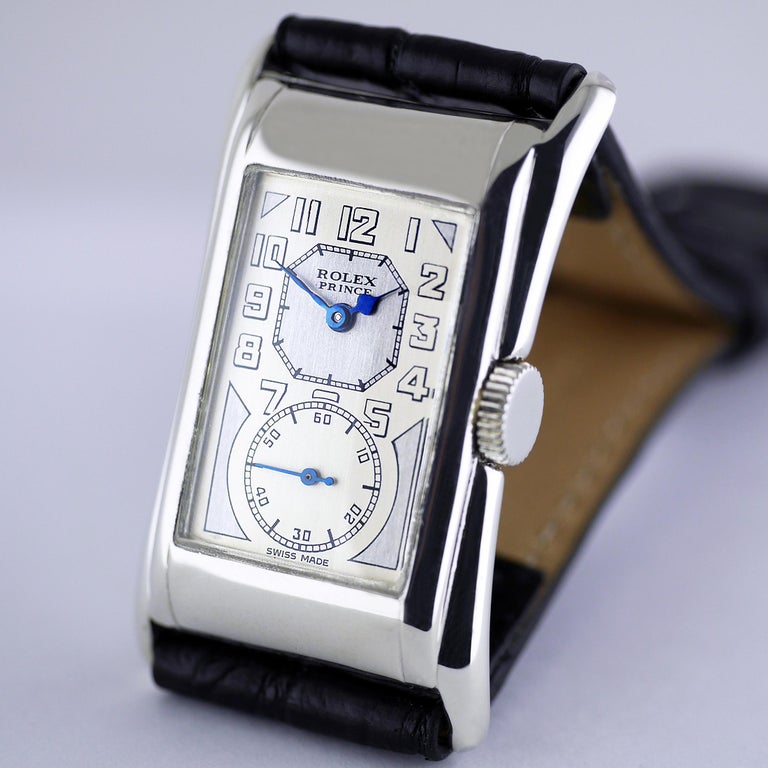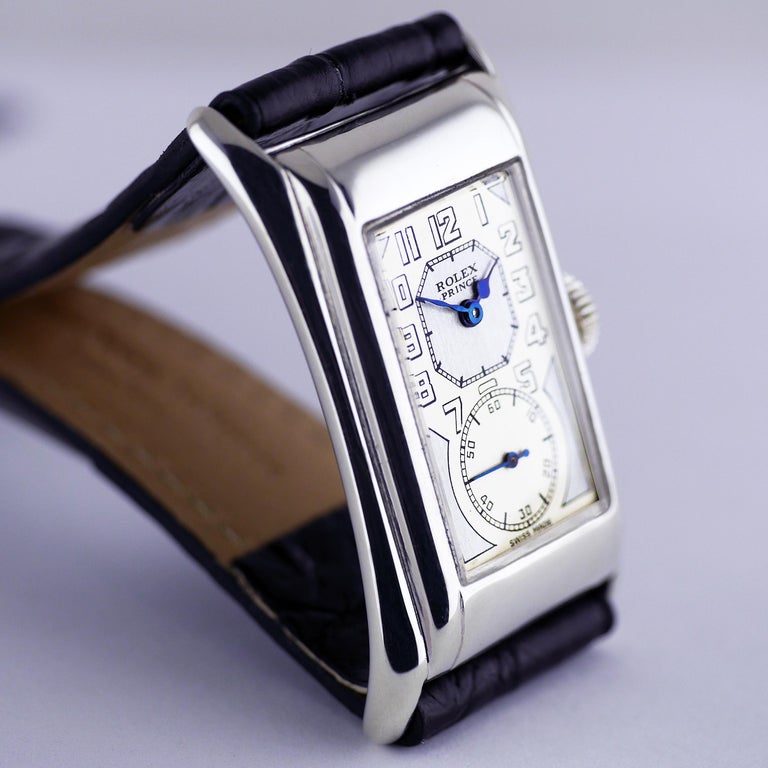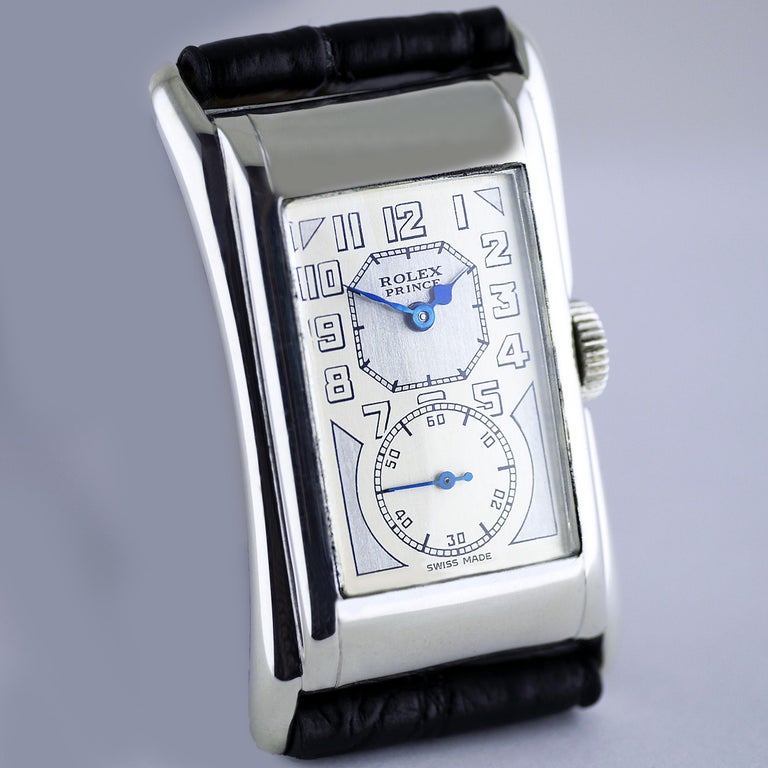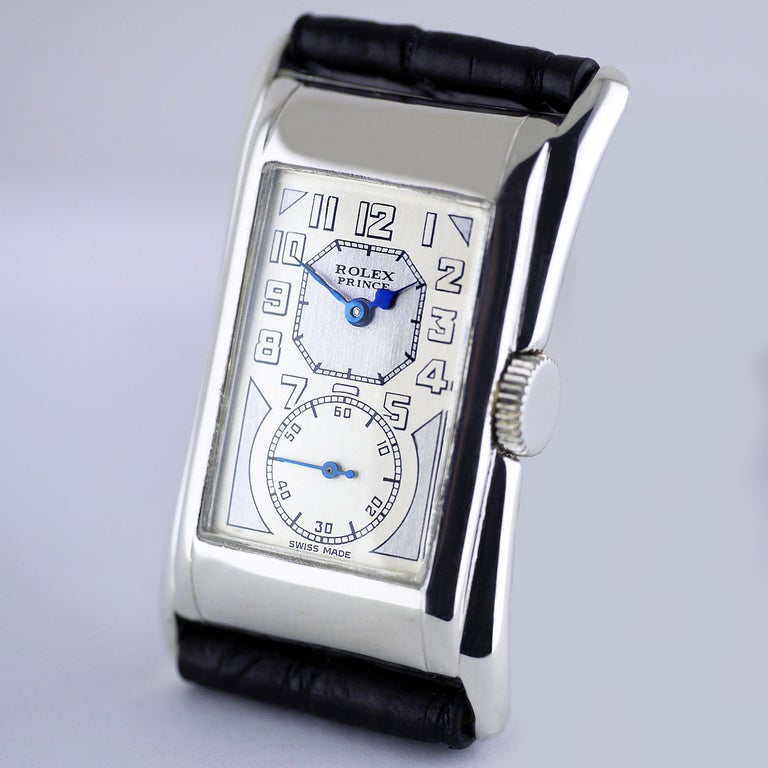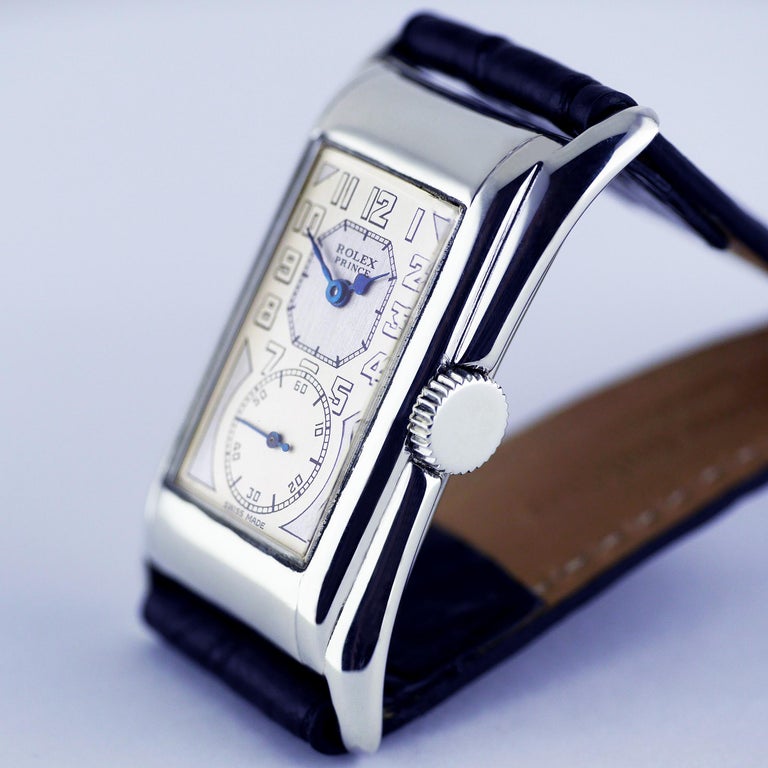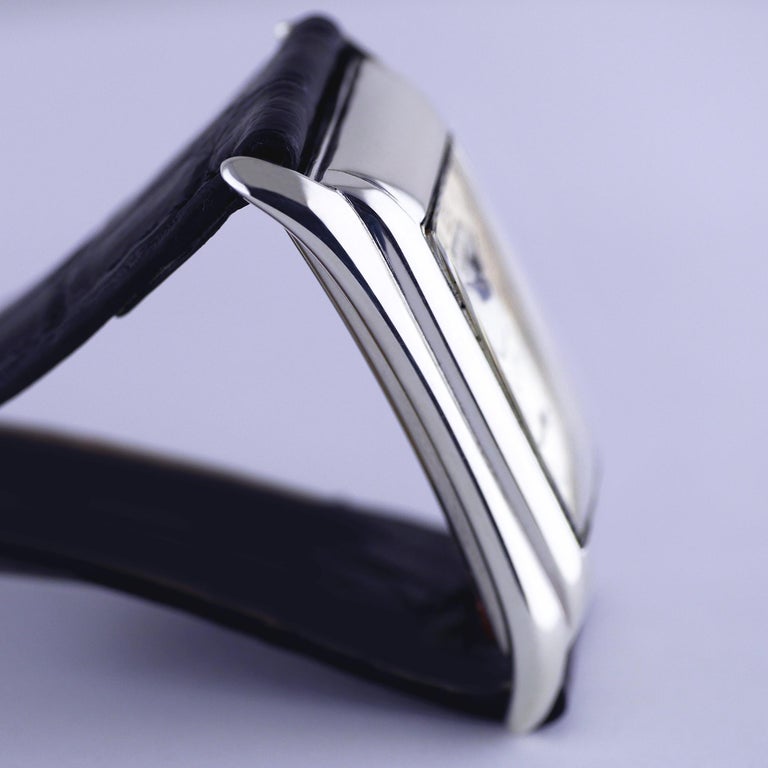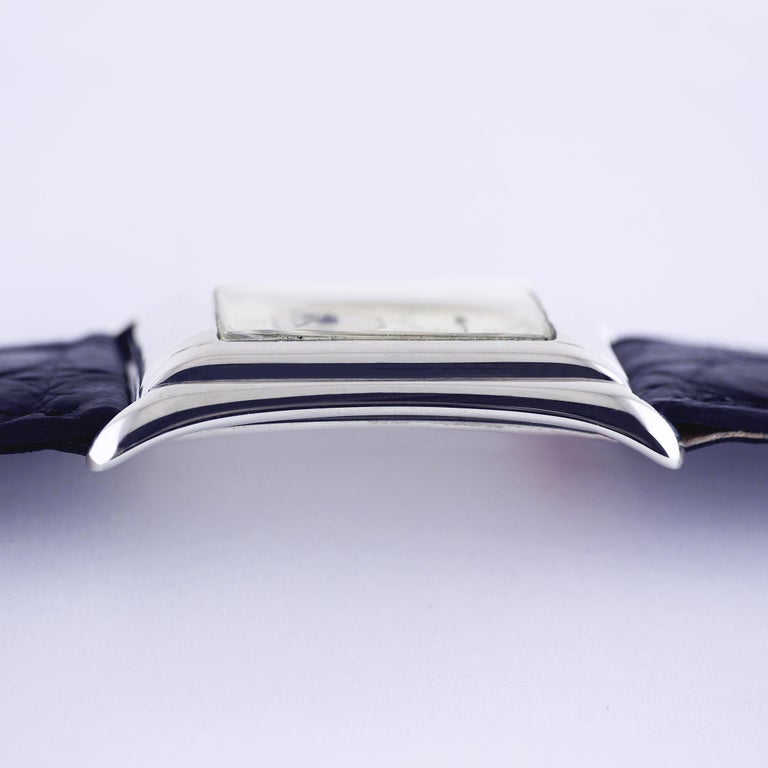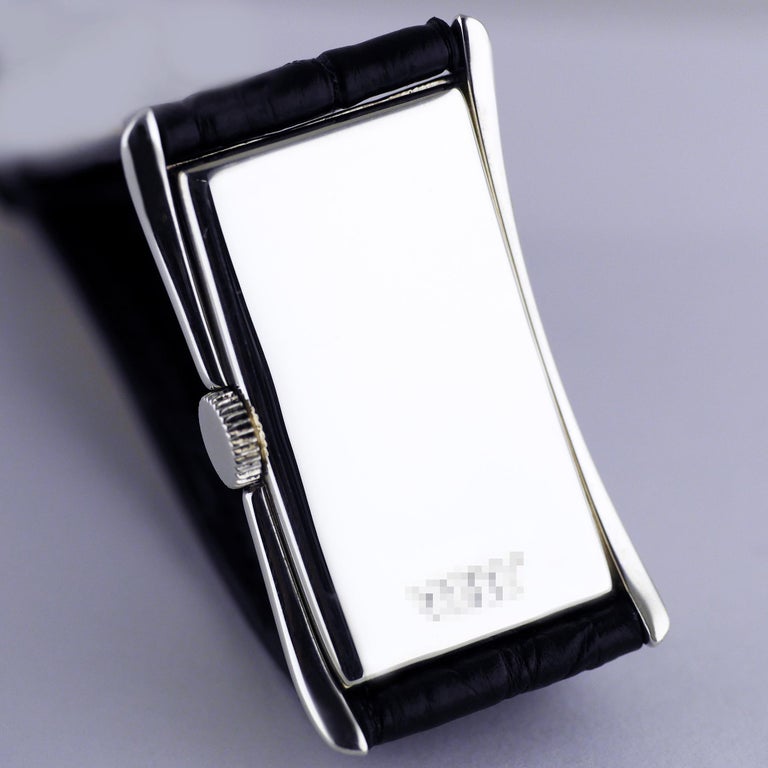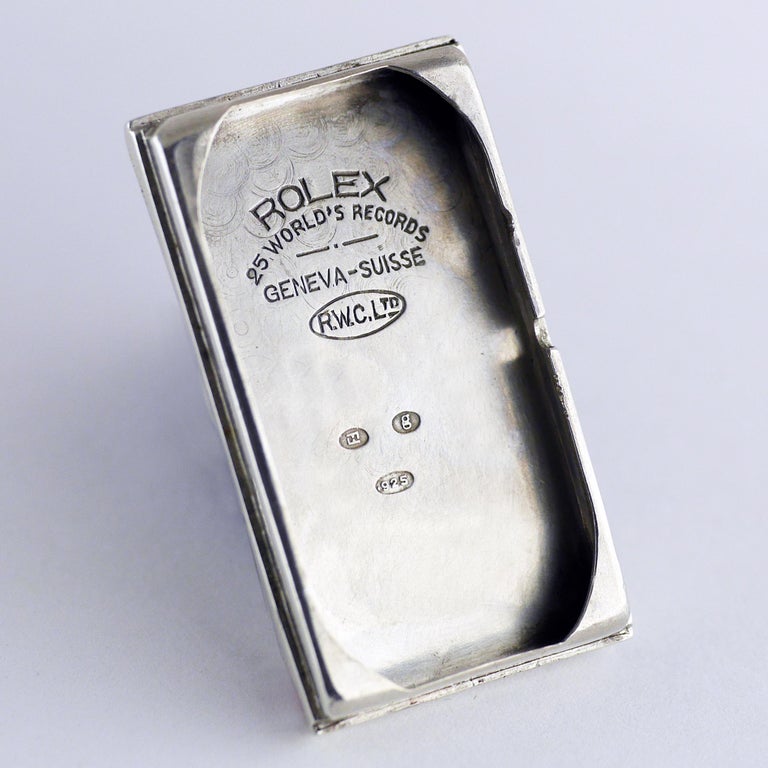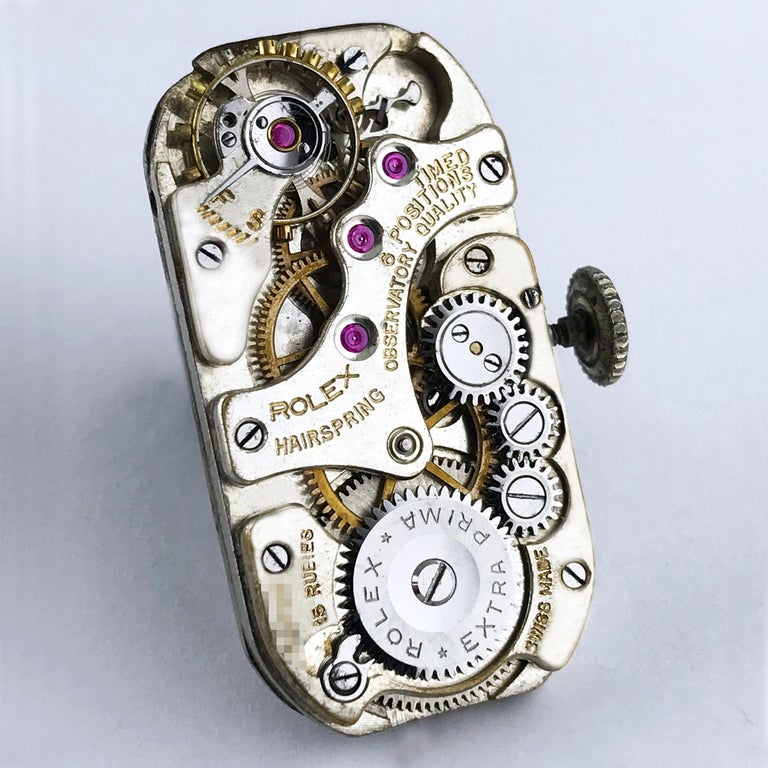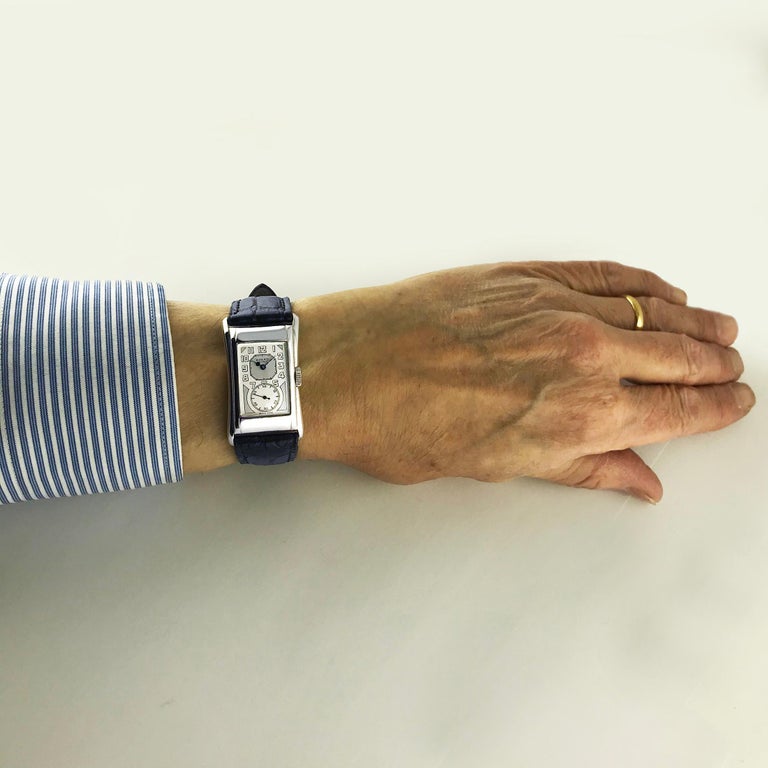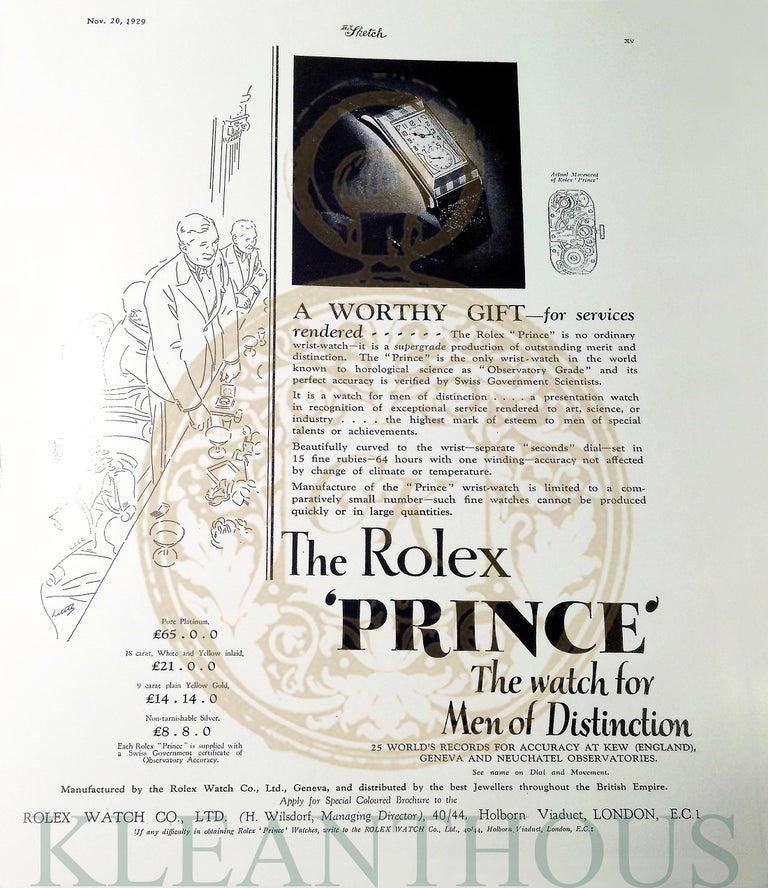 < swipe to view images >
Rolex Prince Brancard, Art Deco, Silver, 1929
by Rolex
Stock No. 2825
A very rare, fine and well-preserved Art Deco vintage wristwatch in silver by Rolex made in 1929. One of the very first Rolex Prince models made in its launch year.
"The Rolex Prince the watch for men of distinction"
If there was ever an accessory that identified one as a man of distinction it is the Rolex Prince Brancard Wristwatch.
Launched in 1929, in the heyday of the roaring 20's, it was revolutionary in its design and mechanism. Rectangular in form yet curved with its elegant flared sides that sit comfortably in the curvature of the wrist.
When fully wound it has power for 66 hours, a length of time unheard of in those days.
It also had a subsidiary second's dial which was large enough to be used by the medical profession when taking the pulse which led to its being colloquially known as "the Doctor's watch".
This iconic piece was marketed by Hans Wilsdorf, creator of the Rolex Watch Company, in all its advertising as for "men of distinction".
A very expensive watch at the time, its rarity was promoted as another douceur to the man of distinction, very few were made – an early example of watch marketing in what we would now refer to as a "limited edition". There is a copy of an original advertisement from 1929 (at the end of the photograph section) for your interest.
It was then and still is now, a very rare, sought after and elegant vintage watch.
Model 971.
Model 971. Silver case and flares marked RWC Ltd in lozenge and "Rolex, 25 World's Records, Geneva-Suisse" Glasgow import for 1929 and .925 hallmarks.
The Extra Prima Chronometer Observatory movement jewelled to the centre with hairspring, with 15-Rubies and marked "Timed 6 positions".
Two tone, silvered, bi-metallic dial. Black Chapter, Arabic Art Deco numerals, oversized subsidiary seconds dial and indexes. Blued steel hands.
Case, movement and dial signed.
Case Measurements:
Length (lug to lug): 43 mm
Width (Widest): 25 mm
Width (Narrowest): 23 mm
Depth: 8mm
All watches are given a full thorough service. They are stripped down to their individual parts, thoroughly checked for any obvious wear and tear, cleaned, re-oiled, reassembled and regulated. The final result is that the case, dial and movement are in pristine condition.
Pristine, fully serviced, 2 year guarantee and full after sales maintenance service.
Dimensions
| | |
| --- | --- |
| Width | 25.00 mm - 0.98 inches |
| Depth | 8.00 mm - 0.31 inches |
BACK TO STOCK
More Items