Belle Époque Guilloche Enamel Diamond Pearl Pendant or Brooch
byUnknown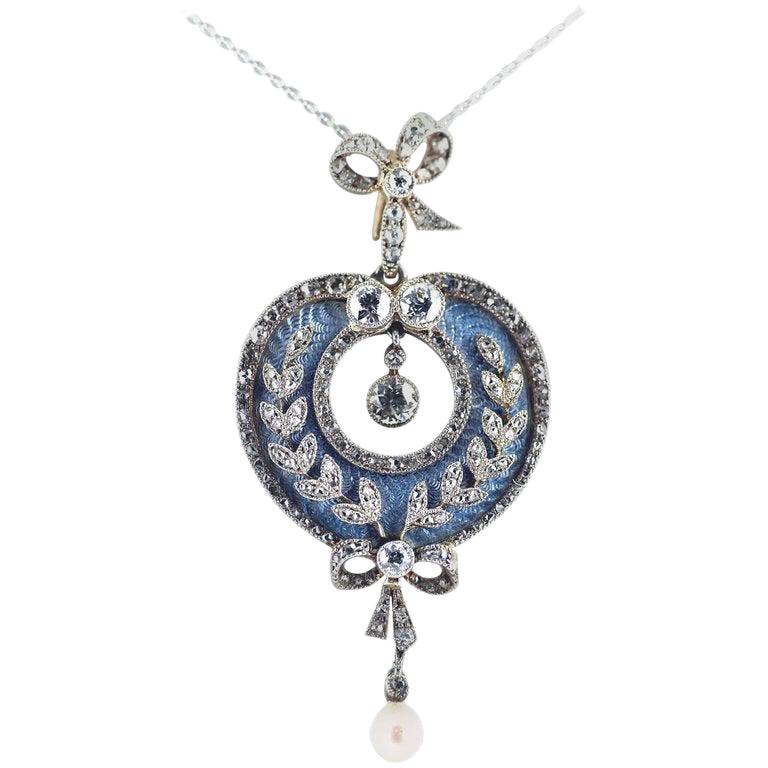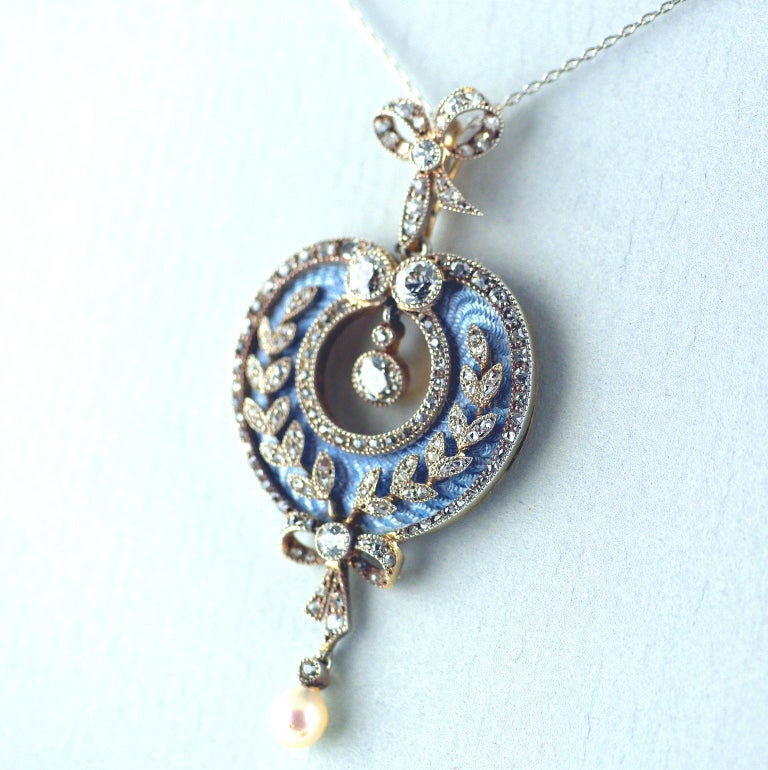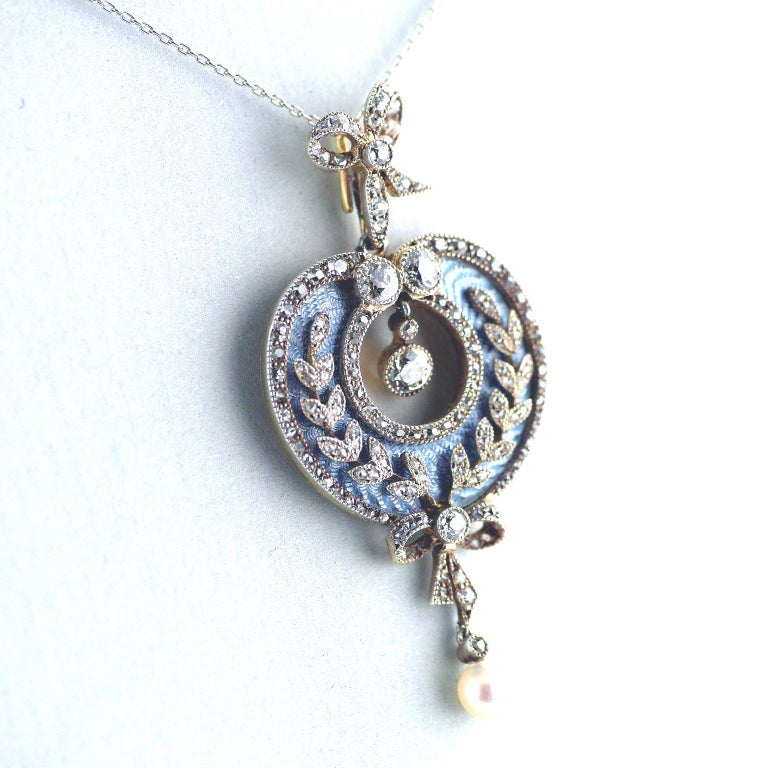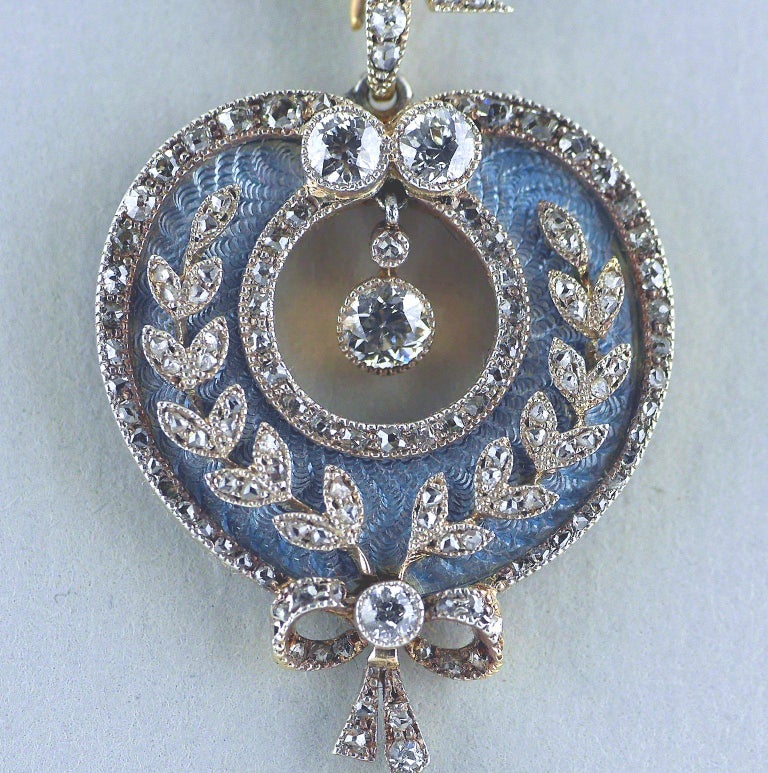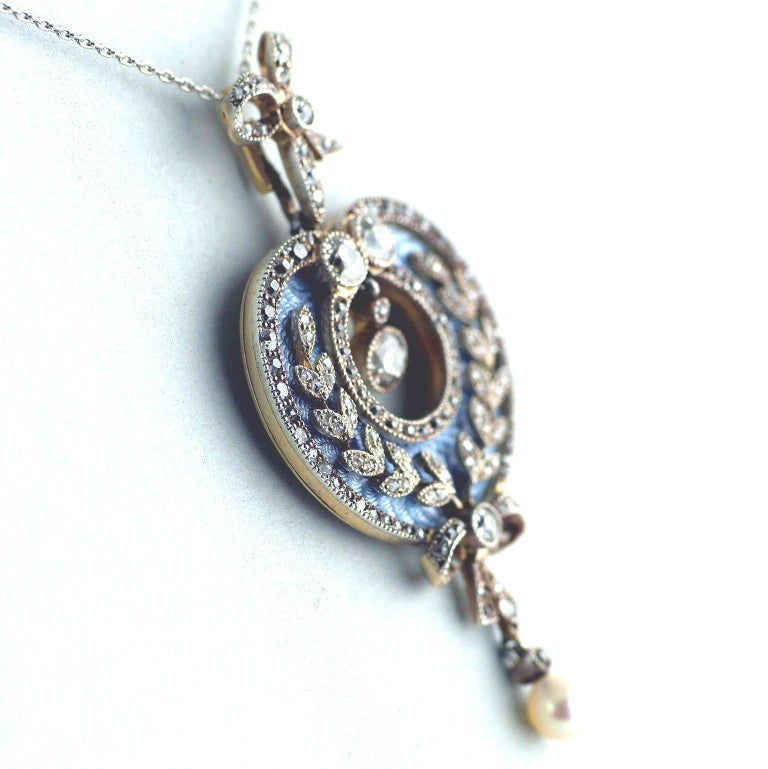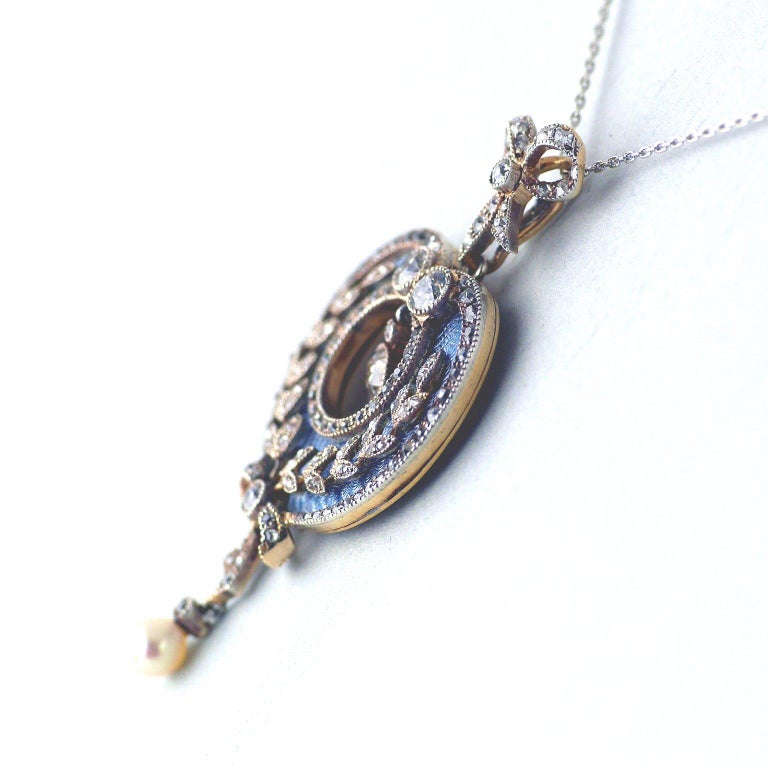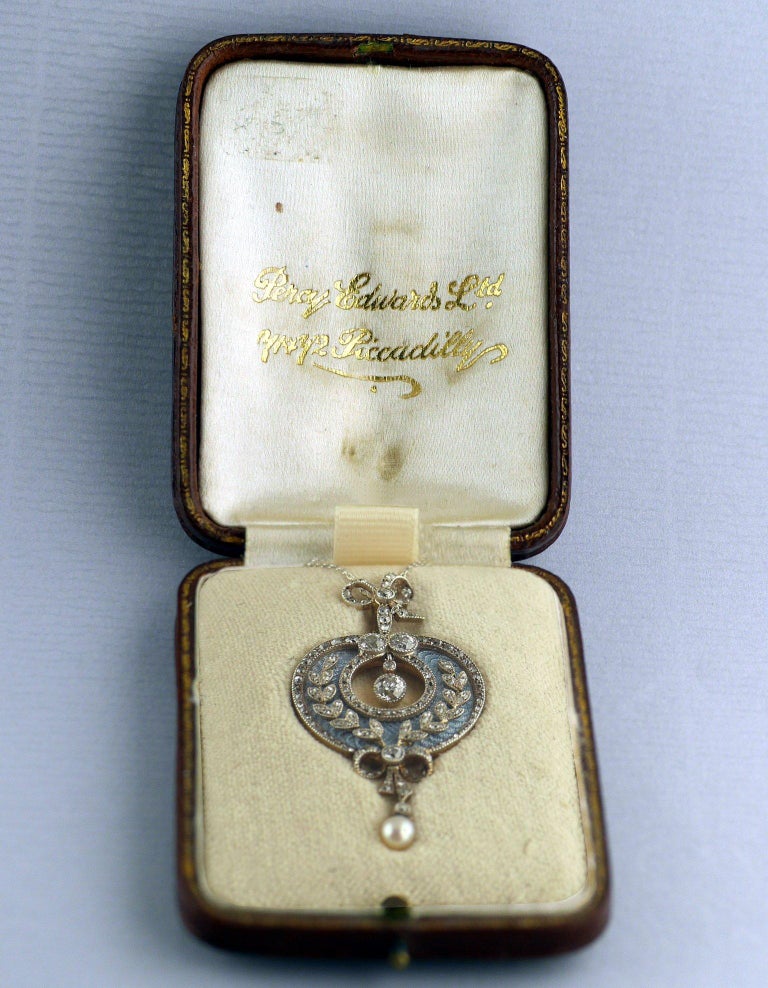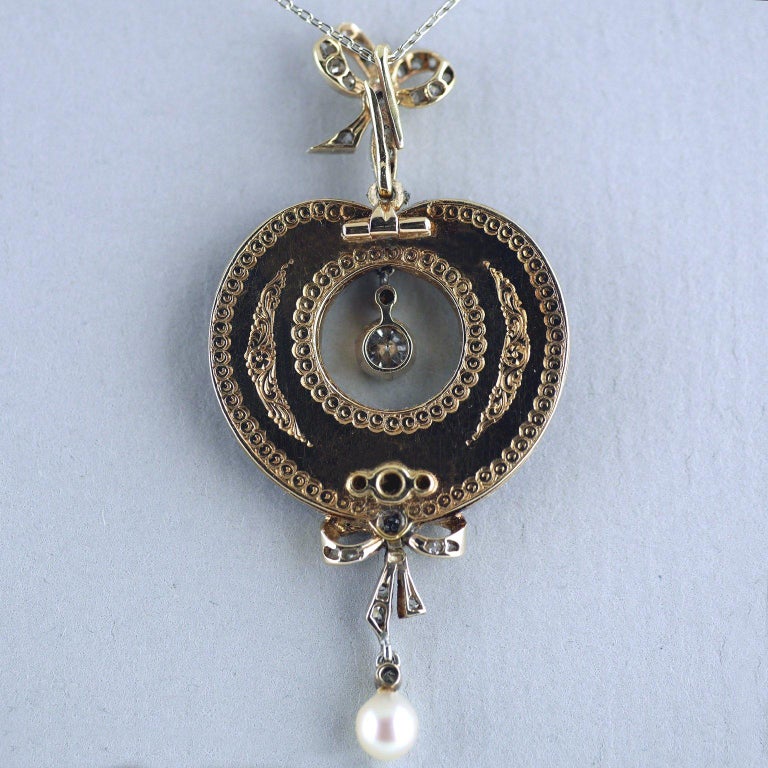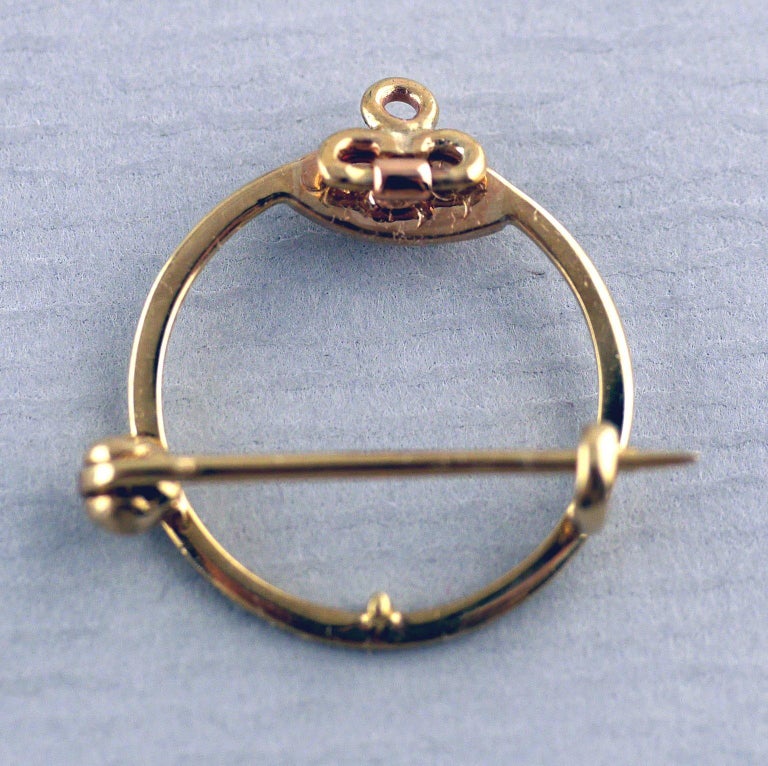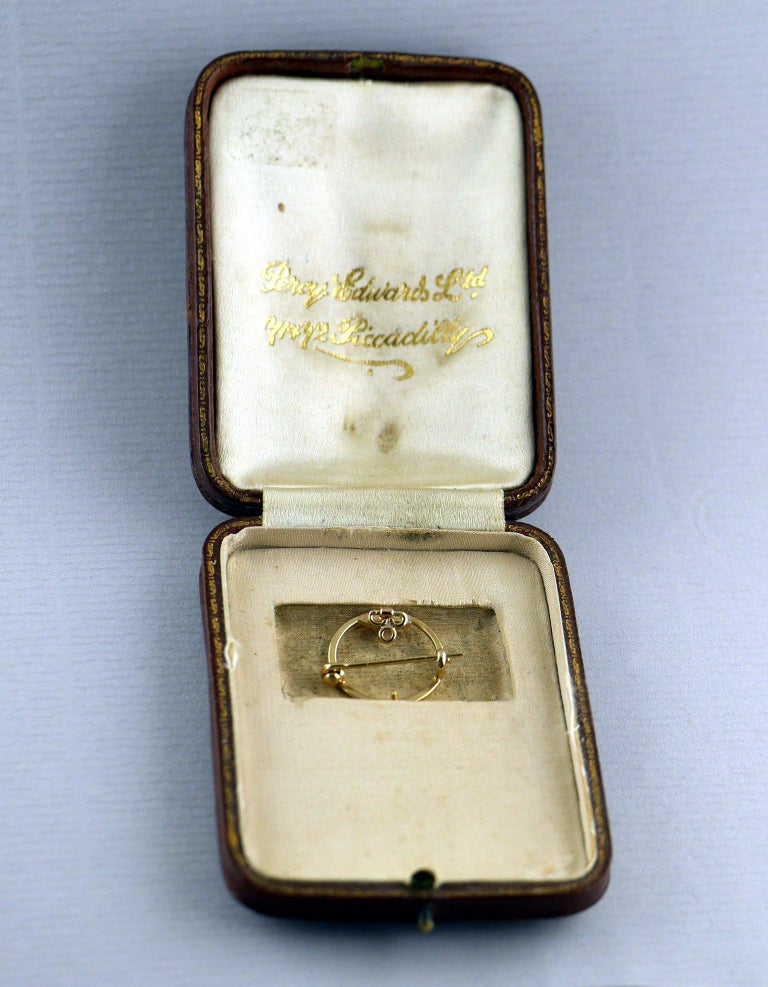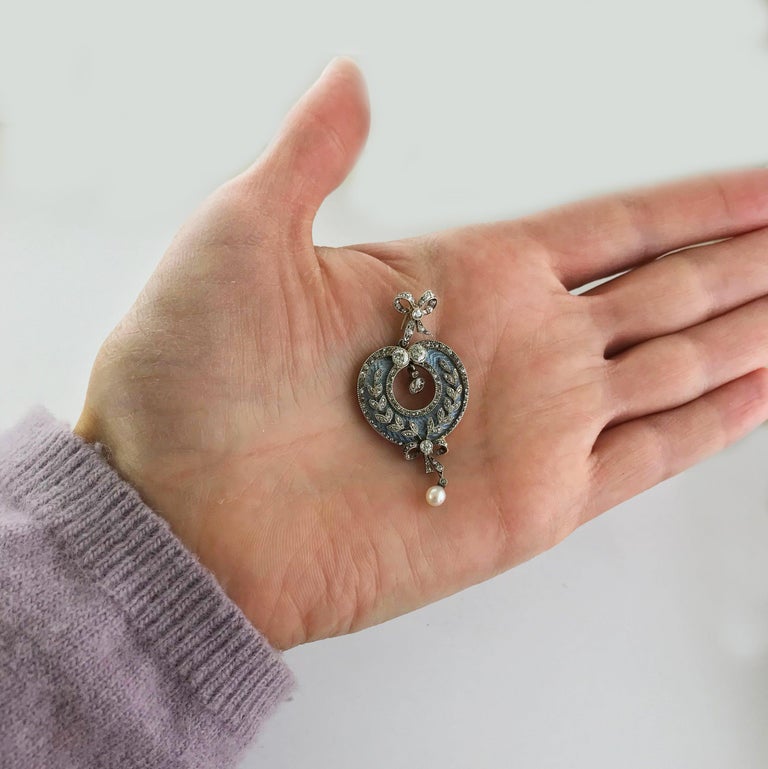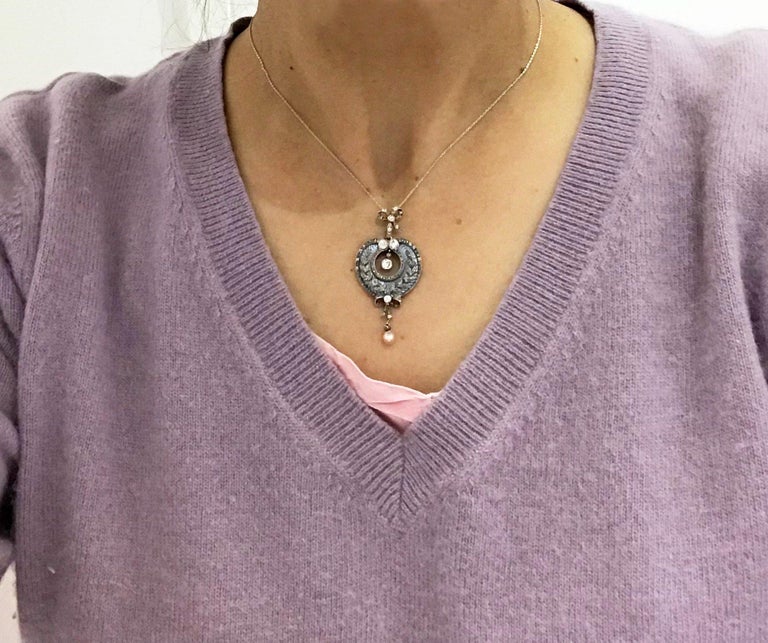 < swipe to view images >
Belle Époque Guilloche Enamel Diamond Pearl Pendant or Brooch
byUnknown
Stock No.2741
An exquisite, rare and fine Belle Epoque pendant in 18 carat gold and platinum, circa 1900 with a detachable brooch fitting.
18 carat gold and platinum set heart shaped centre with a diamond foliate overlay on engine turned, pale blue, translucent Guilloché enamel with a natural salt water pearl drop.
Four principle diamonds, late Victorian Old Cut (Old Mine) approx 0.45 carat total.
Rose cut diamonds in a foliate, millegrain border and bow settings approx 0.55 carat total.
Total diamond weight: approx 1.00 carats, F-H colour and VS1-SI1 (approx).
In the early 20th century Platinum was an extremely rare metal and was only just beginning to be used in jewellery. Before whole pieces were made in platinum, they used the same technique as they had used in the Georgian/Victorian period with silver setting. Silver Set was a technique whereby a very thin layer of silver was applied on top of the gold, to which the diamonds were set, in order to show them off to their best advantage (as the yellow colour of the gold would reflect and refract the light, thereby, distorting the white colour of the diamonds).
Belle Epoque
"La Belle Epoque" was a period of European history from the end of the 19th Century to the first decade of the 20th Century.
It was a period characterized by the optimism of regional peace and economic prosperity. This led to many technological, scientific and cultural innovations and where the arts flourished especially in Paris, France. It was a golden age where many masterpieces of art, literature, music, theatre were created.
Belle Epoque jewellery has a distinctive appearance with soft, curved shapes and lines and often enhanced with foliate swags and bows. Jewellery designers often experimented with a wide variety of new techniques, among others enamelling and the use of guilloche enamel.
Guilloché is a technique where metal is decorated with a pattern of engravings, mechanically by engine turning. Translucent enamel is then applied over the engraving giving the enamel depth and adding texture to the piece. This art form was popularised by Peter Carl Fabergé in the 1880s when he utilised it to beautiful effect on his pieces including the famous Fabergé eggs.
Dimensions:
Width (at widest) 23 mm / 2.3 cm / 7/8" (0.91 Inches)
Length (of pendant) 23 mm / 2.3 cm / 7/8" (0.91 Inches)
Length (including top loop and pearl drop) 47 mm / 4.7 cm / 1 13/16" (1.85 Inches)
Chain length 44 cm (17" Inches) approx
In fitted period box. Detachable 18ct brooch fitting.
A very fine piece in pristine condition. Original guilloché enamel in perfect mint condition. All the precious stones in our jewellery are natural colours, none have had their colour enhanced by artificial treatment.
Dimensions
| | |
| --- | --- |
| Width | 23.00 mm -0.91 inches |
BACK TO STOCK
More Items