Art Nouveau Guilloché Enamel, Diamond, Pearl, Pendant, circa 1900
by Unknown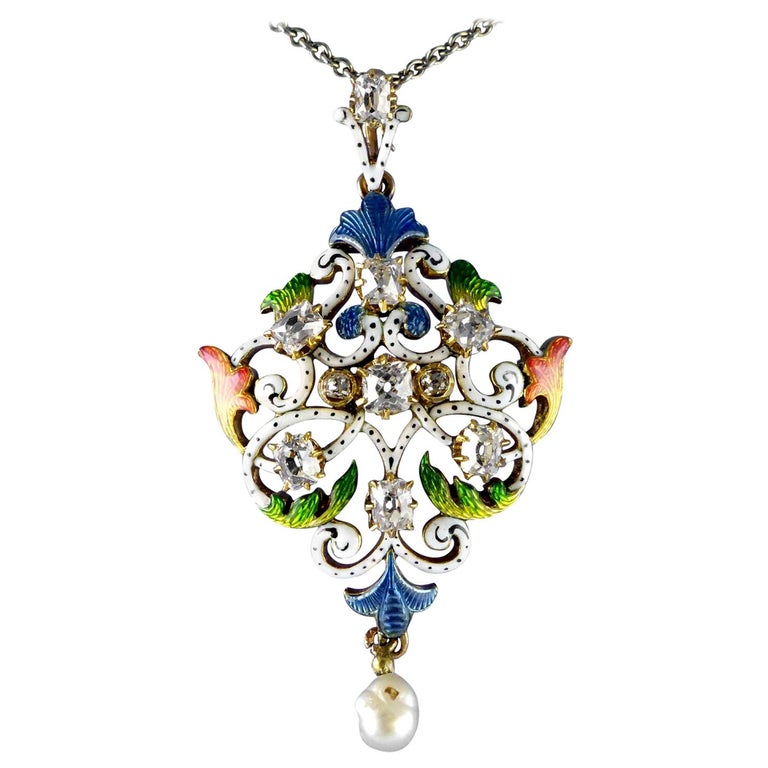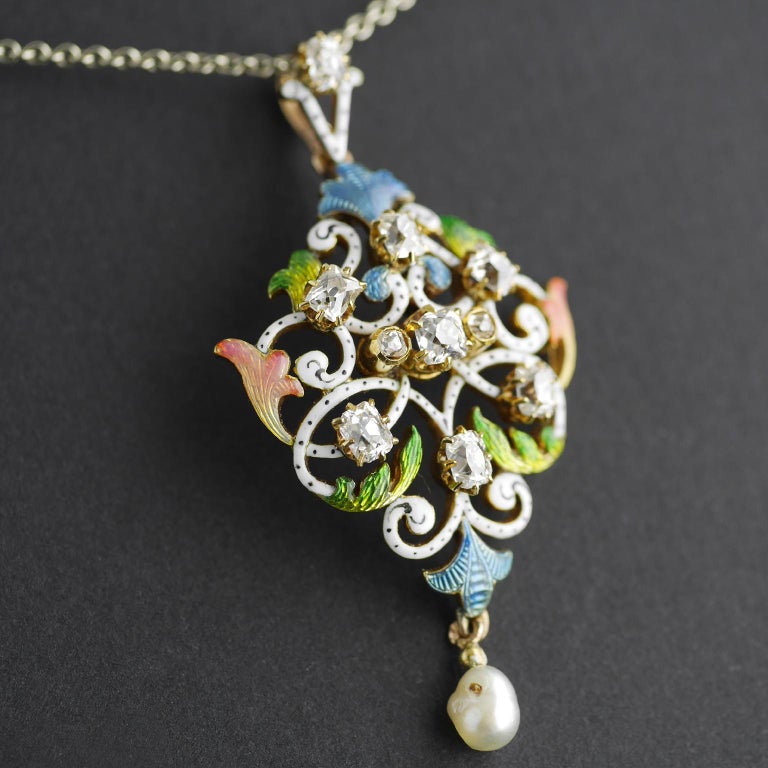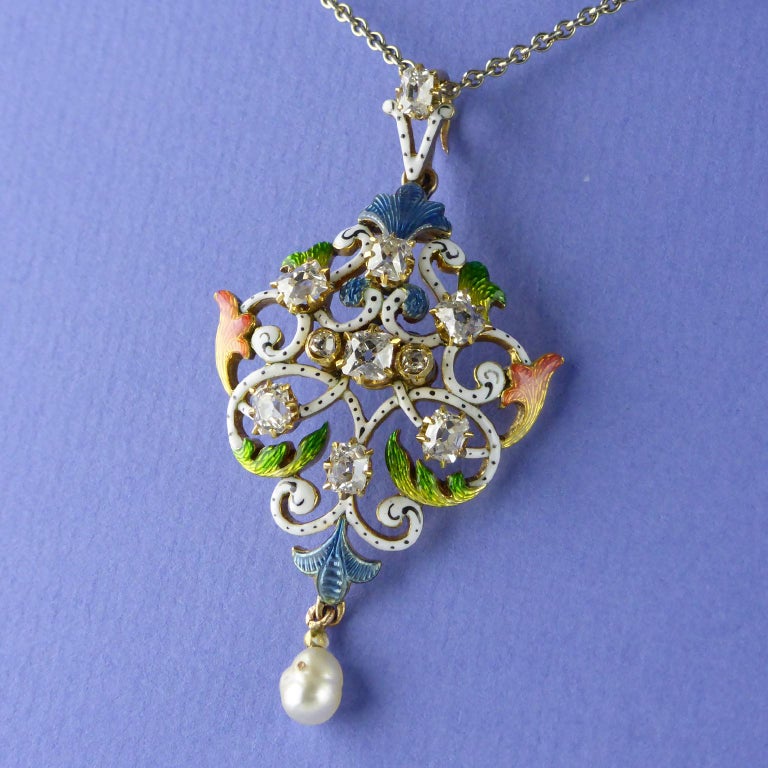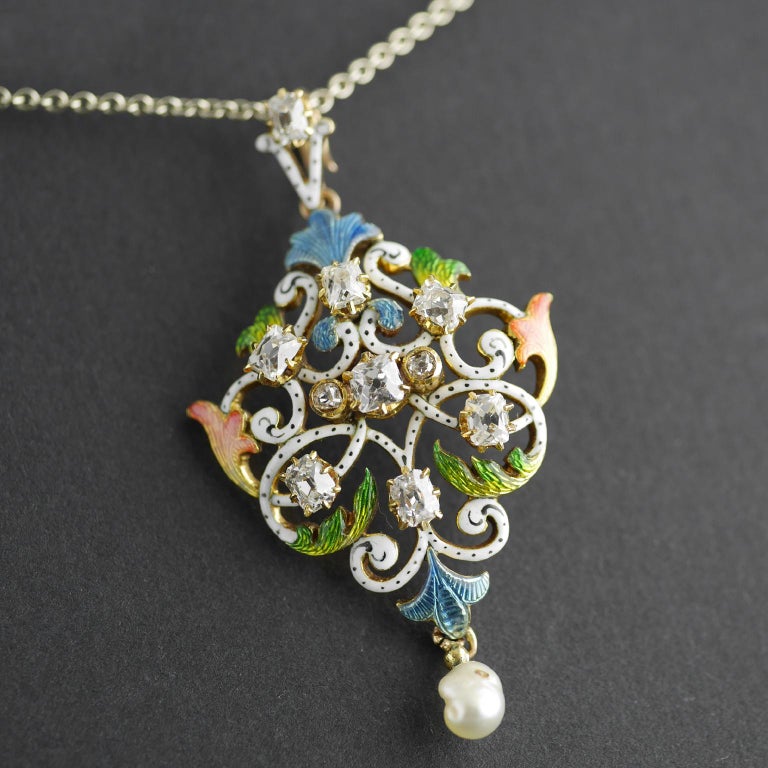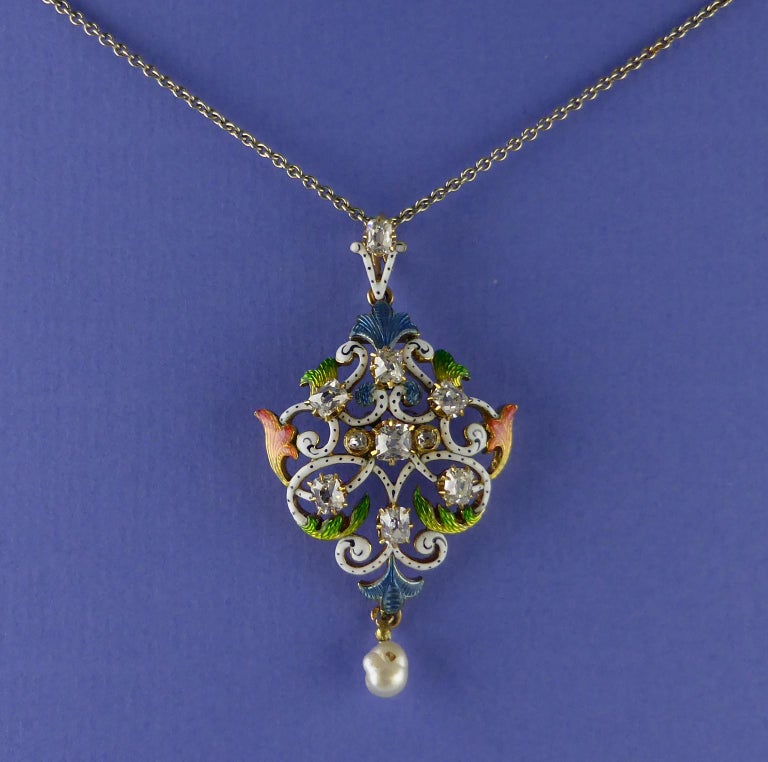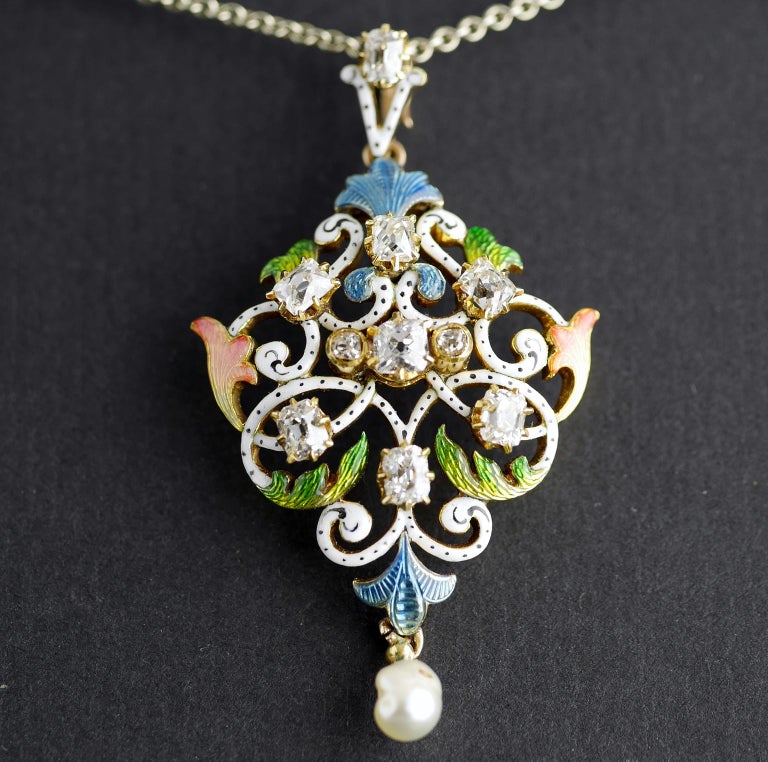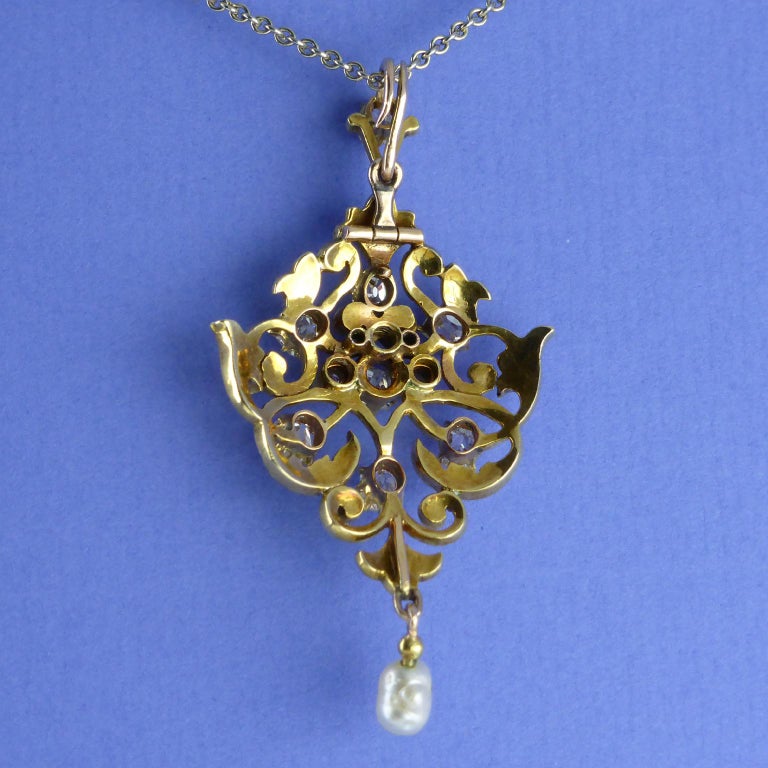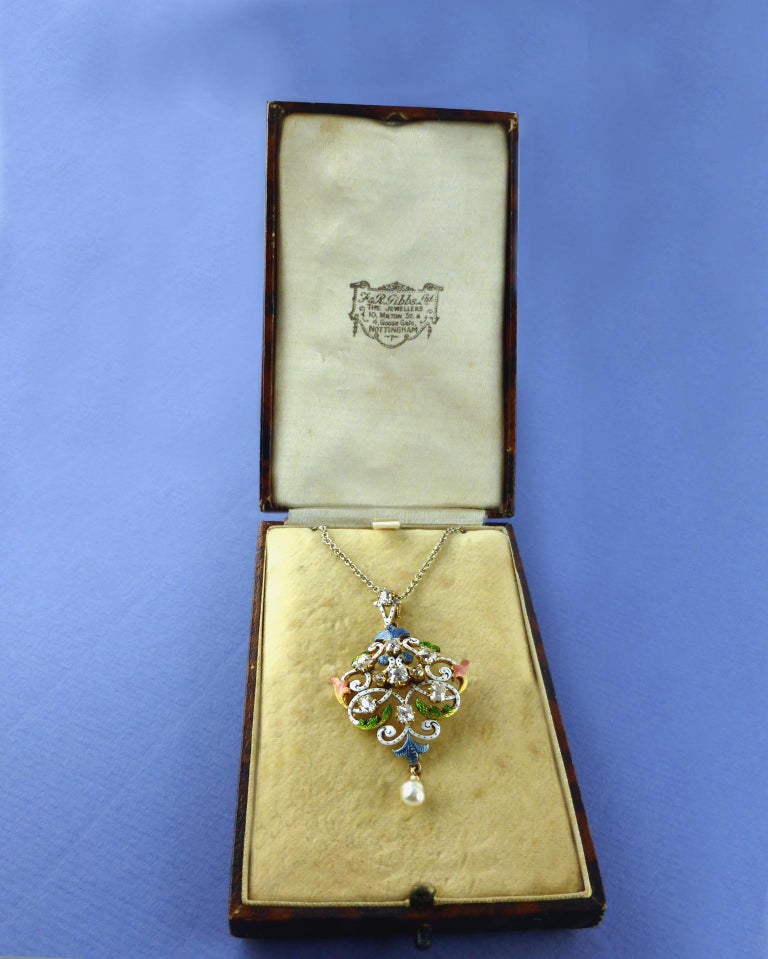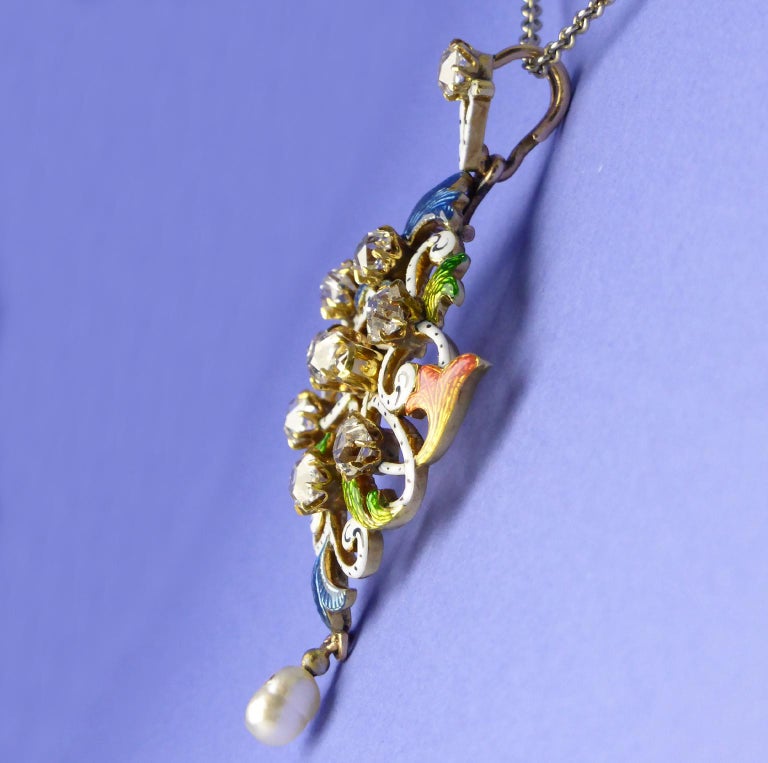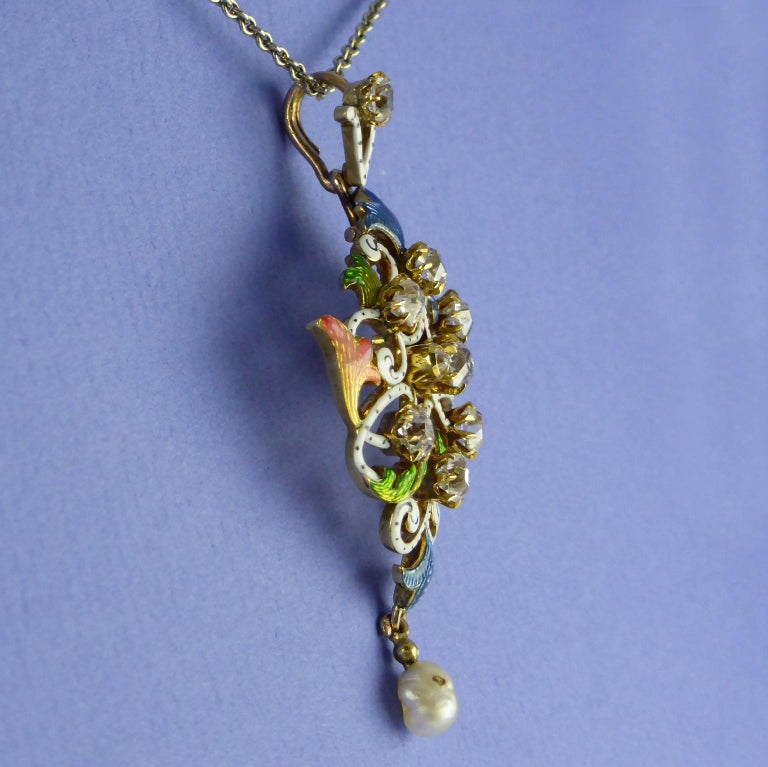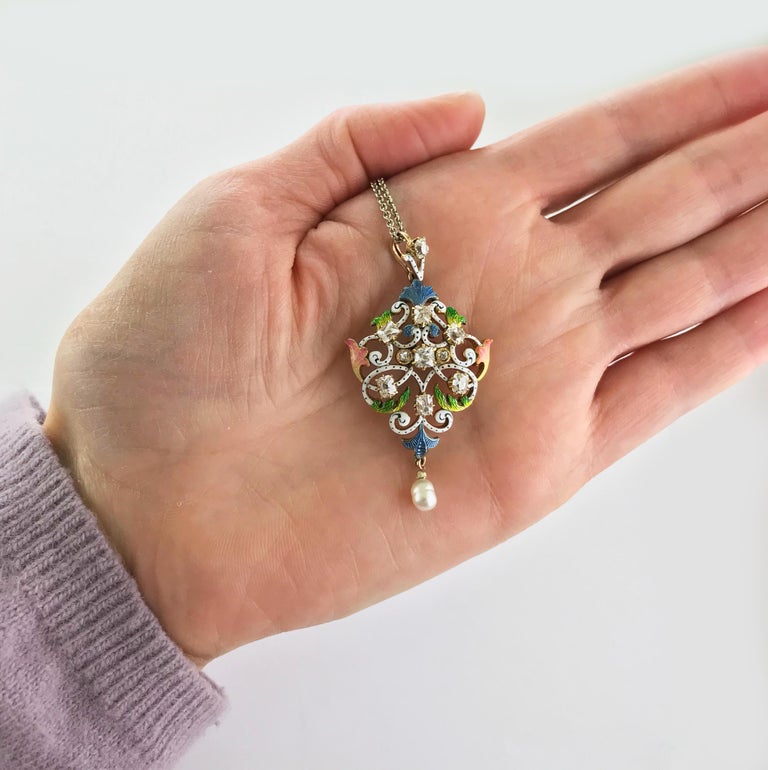 < swipe to view images >
Art Nouveau Guilloché Enamel, Diamond, Pearl, Pendant, circa 1900
by Unknown
Stock No. 2489
An exquisite, rare and fine Art Nouveau pendant in 18 carat gold, Circa 1900.
18 carat gold set with translucent varicoloured Guilloché enamel with a natural salt water pearl drop.
Eight principle diamonds, Georgian Table Cut (Very early from circa 1800 -1840, Old Mine) approx. 0.25 carat each. With two other 0.10ct (each) Old Mine diamonds.
Total diamond weight: approx. 2.10 carats, F-H colour and VS2-SI2 (approx.).
Guilloché enamelling is a technique where metal is decorated mechanically with a pattern of engravings by engine turning. Translucent enamel is then applied over the engraving giving the enamel depth and adding texture to the piece. This art form was popularised by Peter Carl Fabergé in the 1880s when he utilised it to beautiful effect on his pieces including the famous Fabergé eggs.
Art Nouveau
The Art Nouveau period was a short lived but worldwide movement which reached its peak at the end of the 19th Century and the first decade of the 20th Century. It had its roots in the Pre Raphaelite and Arts and Crafts movements in Britain in the 1860's. Artists, such as William Morris, took their inspiration from the flora and fauna of nature and rejected the mass industrialisation and mechanisation of the Victorian age.
Art Nouveau continued with this theme and has a distinctive appearance with soft, curved shapes and lines and often depicted natural designs such as flowers, birds and the female form. Before the Art Nouveau period, the emphasis had been to design pieces with an emphasis on gem stones, diamonds, rubies emeralds etc. However, during the Art Nouveau period, jewellers adopted the idea of using other semi–precious stones "from nature" such as agate, garnet opal, moonstone, aquamarine and experimented with a wide variety of new techniques e.g. enamelling.
The "New Art" style became a worldwide movement encompassing all disciplines of the arts, and world class artists as far afield as Gaudi with his "modernisme" architecture in Spain, Louis Comfort Tiffany in New York with objects, Galle Glass in France and the Liberty & Co Archibald Knox designs in Britain, Jugendstil in Northern Europe and Faberge in Russia.
The movement flared brightly but briefly and by 1910 it was already going out of style to be replaced by Art Deco.
Dimensions:
Width (at widest) 27mm / 2.7 cm / 1 1/16" (1.07 Inches)
Length (of pendant) 33mm / 3.30 cm / 1 ¼" (1.30 Inches)
Length (including top loop and pearl drop) 51mm / 5.10 cm / 2" (2.0 Inches)
Chain length 44cm (17" Inches) approx.
In fitted period box.
A very fine piece in pristine condition. Original guilloché enamel in perfect mint condition. All the precious stones in our jewellery are natural colours, none have had their colour enhanced by artificial treatment.
Dimensions
| | |
| --- | --- |
| Width | 27.00 mm - 1.06 inches |
BACK TO STOCK
More Items