Rolex Art Deco Gold Wristwatch, 1933
by Rolex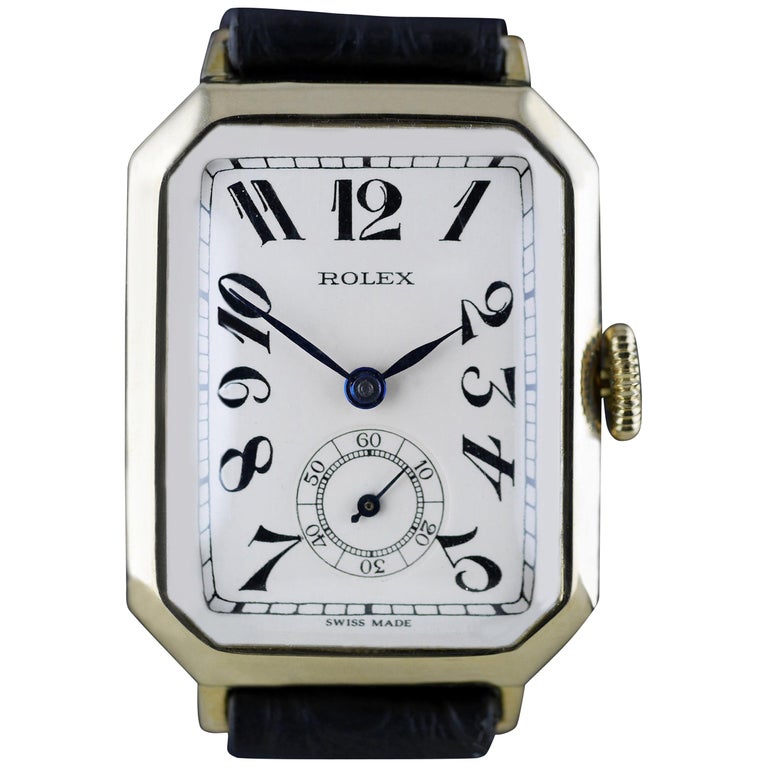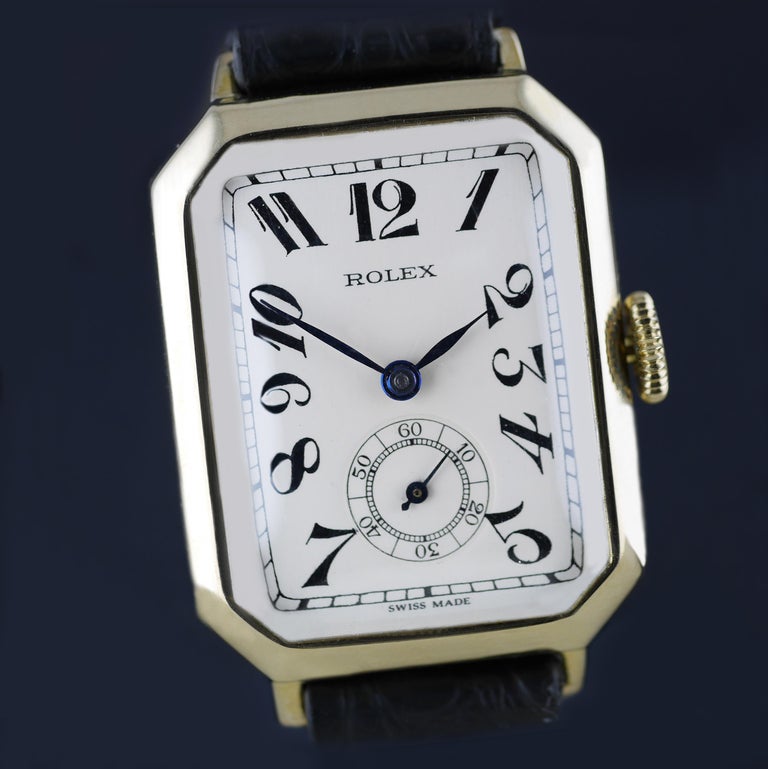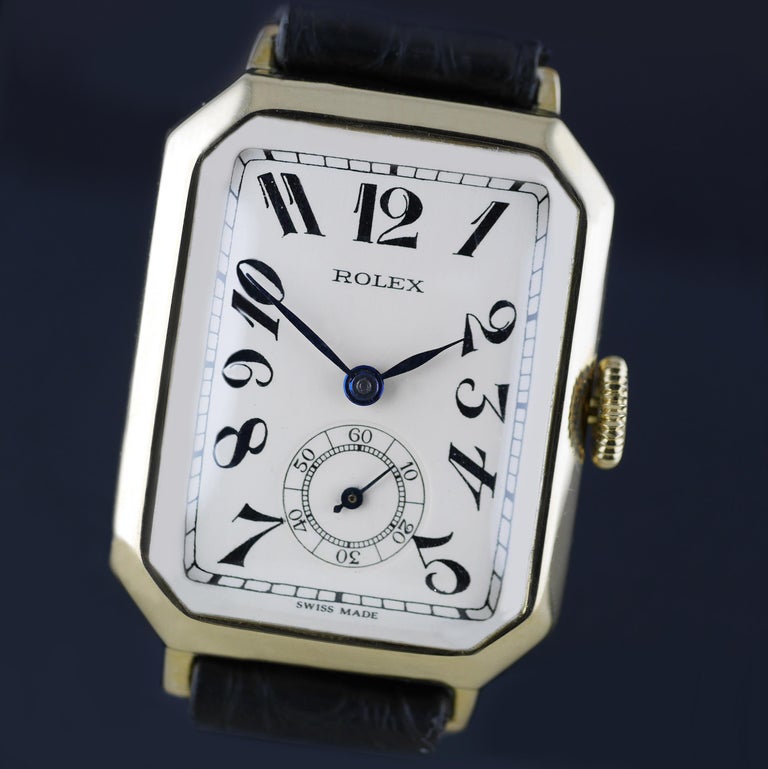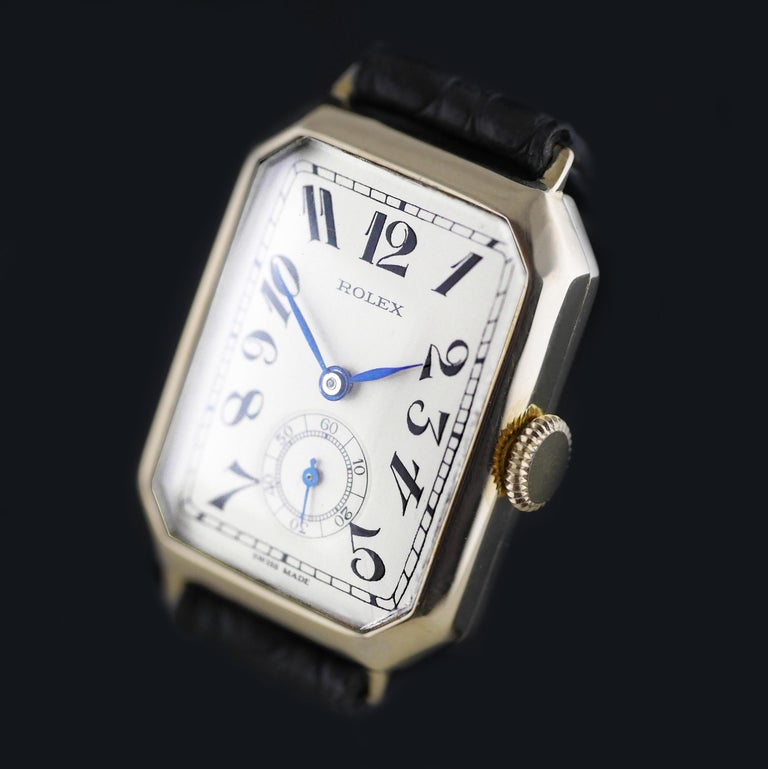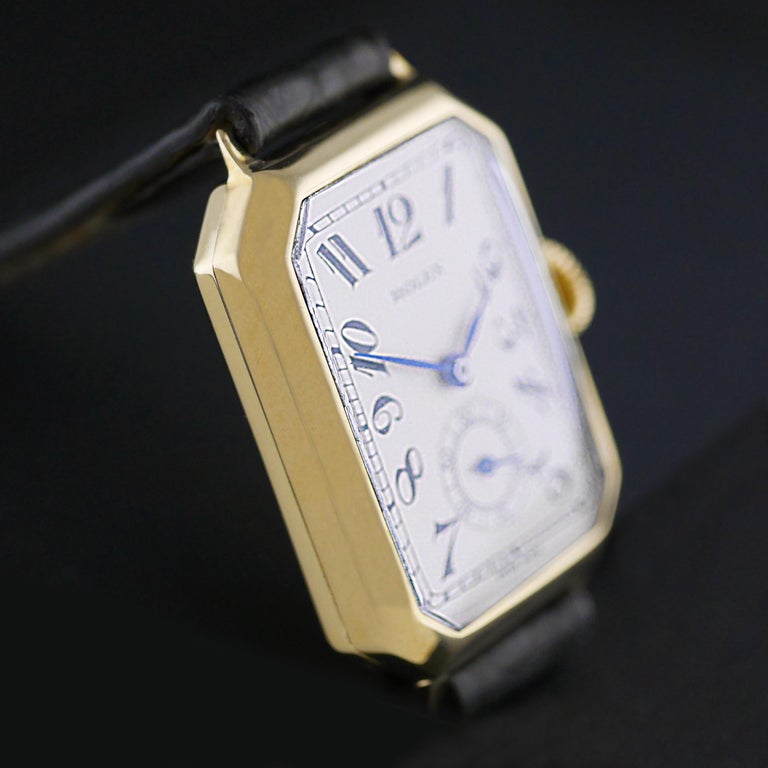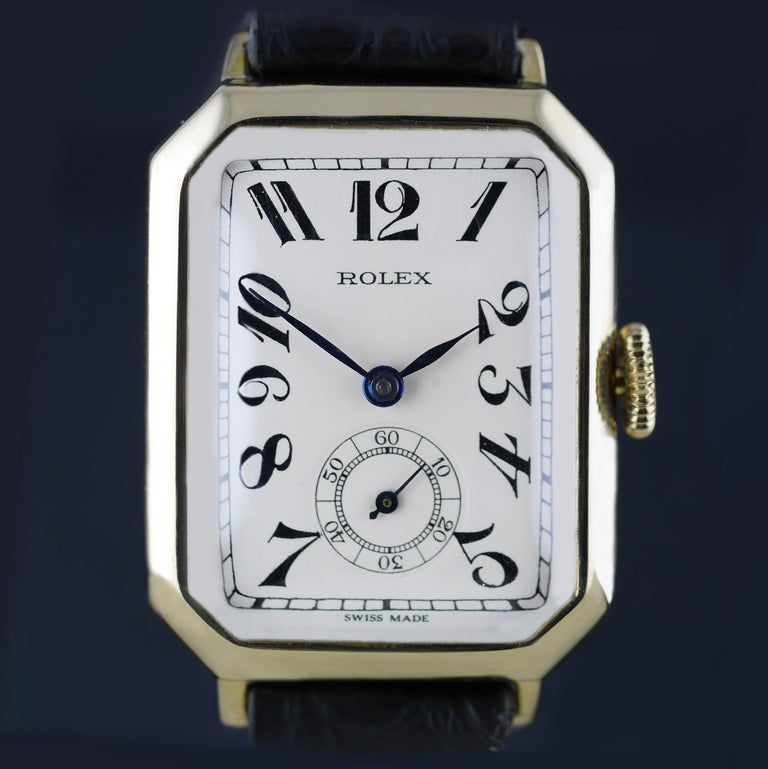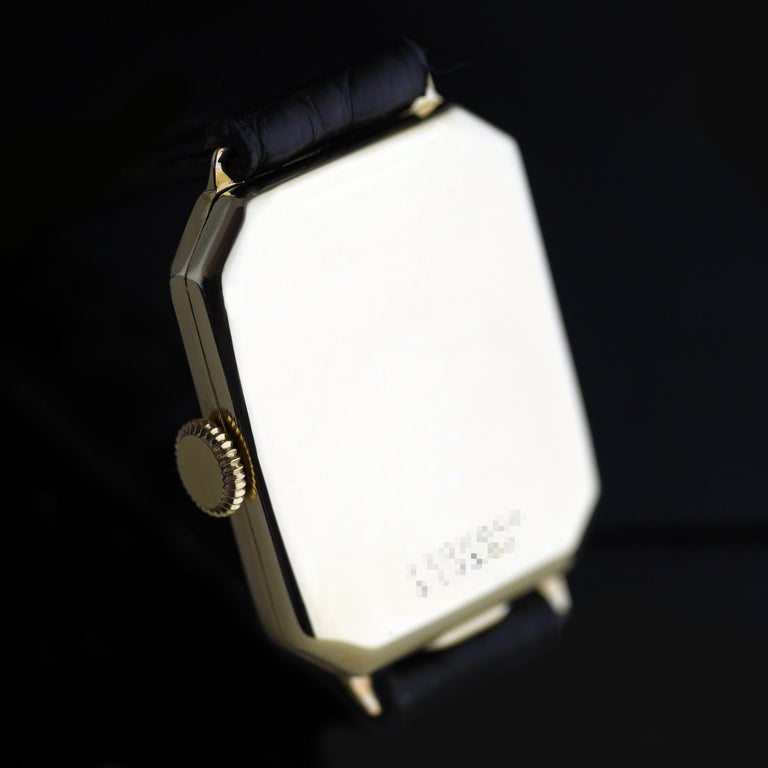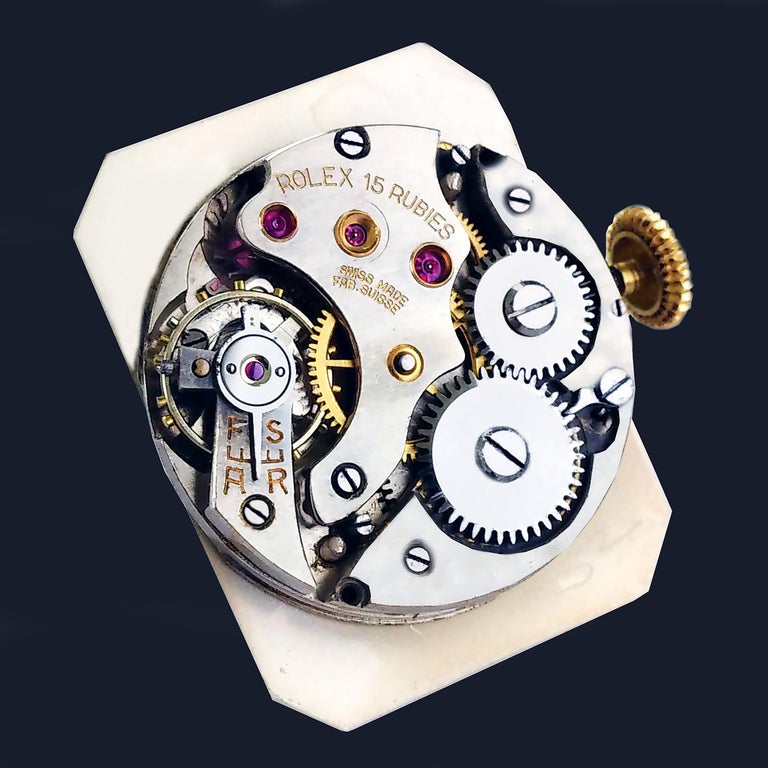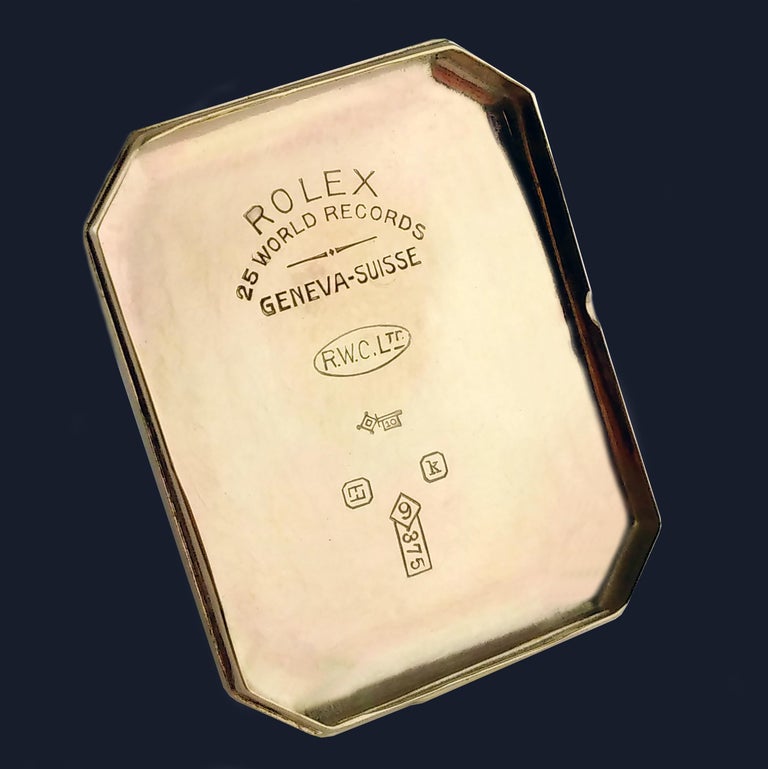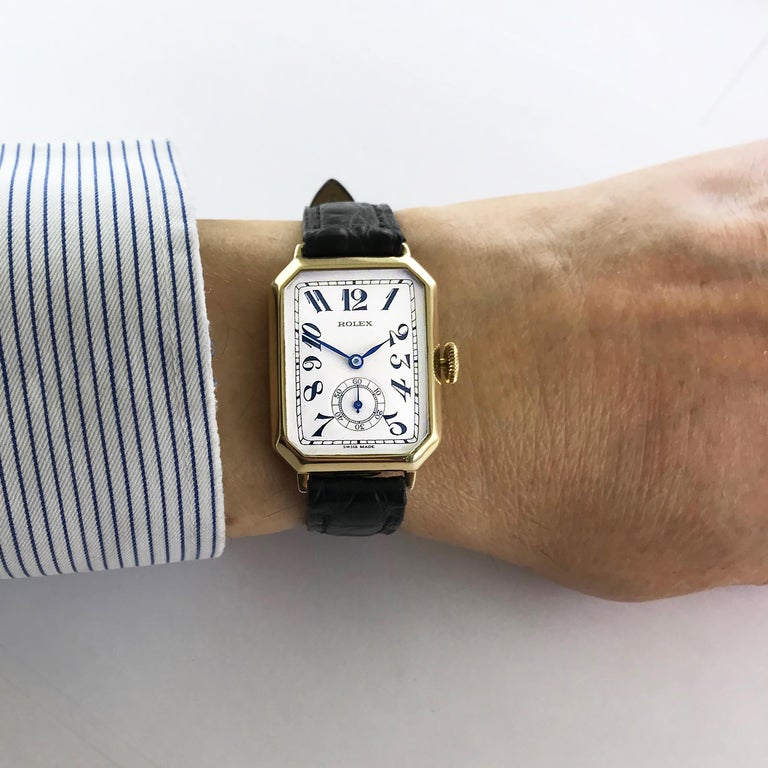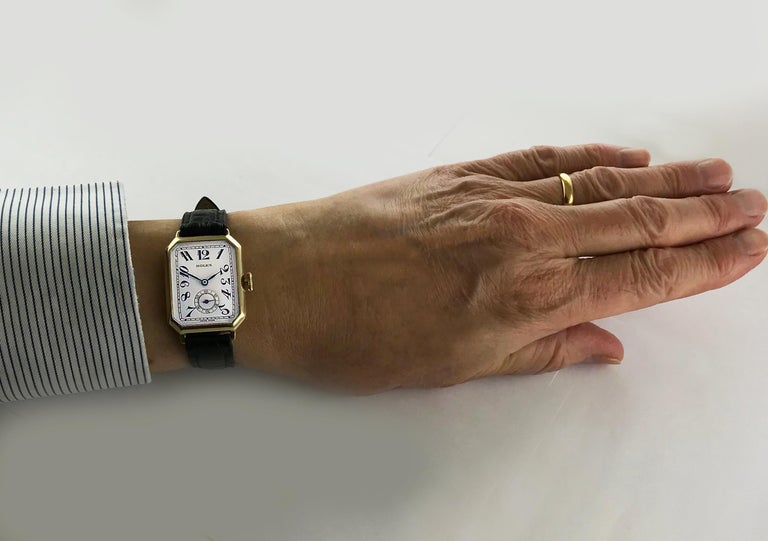 < swipe to view images >
Rolex Art Deco Gold Wristwatch, 1933
by Rolex
Stock No. 2784
An Art Deco vintage wristwatch by Rolex made in 1933. This unusual and rare Rolex, with a distinctive shaped case, was made in the height of the Art Deco era.
Gold rectangular shaped case marked with the "RWC Ltd" lozenge for the Rolex Watch Company Ltd. The snap back gold case is hallmarked for Glasgow Import into the United Kingdom in 1933.
15-Rubies (Jewels) Rolex movement signed Rolex and Swiss made.
Silvered dial with black stylised Art Deco numerals. Black minute chapter and subsidiary dial for seconds. Blued Steel Feuille hands
Art Deco
The Art Deco period was one of the first truly worldwide movements of fashion in the arts, which reached its peak during the 1920's and 1930's. It had its roots in Paris just before the First World War. It took its name from Arts Décoratifs, an international Exhibition of Modern Decorative Arts in Paris in 1925.
Art Deco was a stylistic about turn to the Art Nouveau movement which preceded it. Gone were the soft, curved shapes and lines and in came straight lines and the bold geometric forms influenced by cubism and the desire to be modern. Parisian designers and jewellers such as Louis Cartier and René Lalique played an important role in popularising the Art Deco mode in their jewellery and objects. Infusing their designs with bold bright colours, setting emeralds, rubies and sapphires in simple lines and elegant settings.
Watch design was, as everything else, also influenced by the new modern ideal of straight lines, so watch cases began to become rectangular and square shapes. However, rectangular shaped watch movements were still in their infancy, so they were obliged to use round movements in square cases.
Case, movement and dial signed.
Case Measurements:
Length (lug to lug): 39mm / 3.9cm / 1 1/2" (1.54 Inches)
Width : 26mm / 2.6cm / 1" (1.03 Inches)
Depth: 7mm / 0.7cm / 1/4" (0.28 Inches)
All watches are given a full thorough service. They are stripped down to their individual parts, thoroughly checked for any obvious wear and tear, cleaned, re-oiled, reassembled and regulated. The final result is that the case, dial and movement are in pristine condition.
Pristine, fully serviced, 2 year guarantee and full after sales maintenance service.
Dimensions
| | |
| --- | --- |
| Width | 26.00 mm - 1.02 inches |
| Depth | 7.00 mm - 0.28 inches |
Sold
BACK TO STOCK
More Items